In the summer season, we all think about throwing the occasional garden party to sit back and relax for a bit and enjoy ourselves with our friends and family. When it comes to garden parties, there are so many different ideas you could go for. Maybe invite your friends and family for a fun barbeque or to play cards against humanity while throwing a lovely food spread? If you want to invite some people over and have a soiree, then look no further. We've got many fun ideas to help you glam up your garden and throw a party. You might already be familiar with a few of these garden party decorations, so let's get into it!
---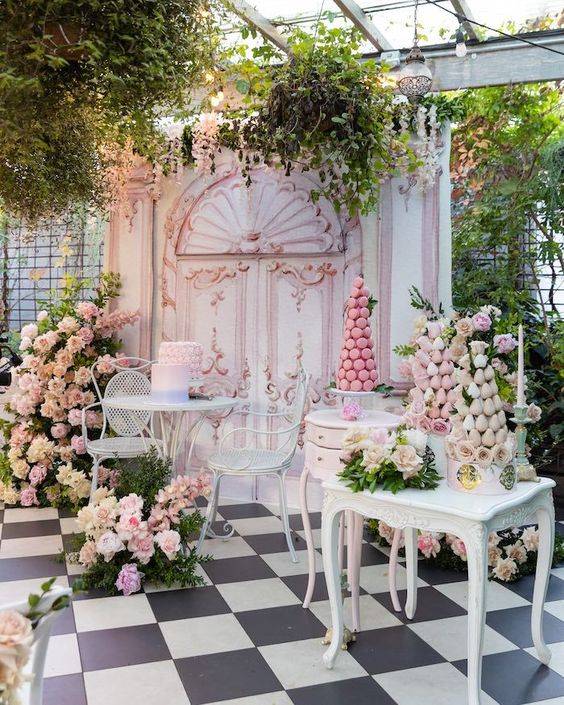 Choosing a fun theme for your garden party is the first step in deciding what sort of decorations you need. You can choose to have a broad theme but being a bit specific would help you get everything else together. It will help you while you pick out your tableware, including the tablecloth, crockery, decorations, bunting colours, string lights, and much more. Choosing what food items and drinks you'll serve is also very important. All of this will be in accordance with whatever theme you choose for your party. Popular garden party themes include rustic farmhouse, beach vibes, and vintage tea parties.
---
Seating arrangements are essential when deciding how else to decorate your garden. If it's a dinner party, you can easily have a long dinner table with your food and then have a drink station on the side. When it comes to the drink station, a mini garden bar decorated with fairy lights is a great idea. You can place a few seats at the garden bar along with a dispenser with everyone's favourite drink. For some fun, add a few different funky straws and glassware.
---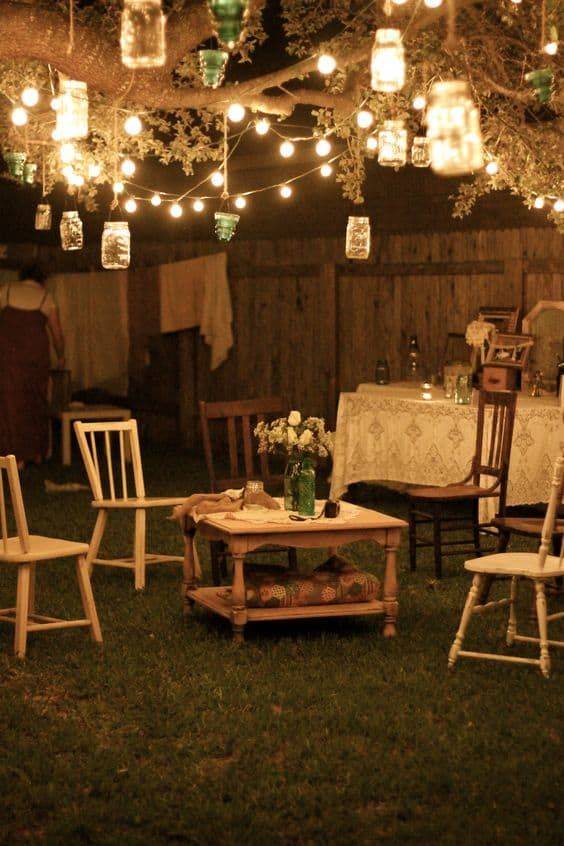 We all know lighting is an element that can bring an entire event together. Outdoor lighting is one thing that can be very tricky but plays a vital role in the success of a garden party. Outdoor lighting always helps uplift a garden party, whether it's a BBQ, a birthday party, or a reunion.
Using string lights is a good idea but to make your party a bit more exciting, you can DIY spilling solar lights. This requires an old vintage kettle, led string lights, a washer, Shepard's hook, craft wire, and some tools. Using spilling solar lights could increase the decorative appeal of your garden and be a unique decoration for your dinner party. Using warm lights would help radiate warmth in your entire space and create an enchanting ambience as well.
---
Decide The Food and Drinks

Your choice of food is important when throwing a garden party. You can fill up a platter with mini sandwiches and burgers, make a great cheese board, and have a nice variety of cold drinks and juices. You can be innovative and go boho by introducing make your own food stations, which could include chicken wraps, salads, burgers, and so much more. Such a station would serve not only as a garden decoration idea but also as a fun activity for everyone. After all, being a host doesn't mean you have to do it all on your own. Sometimes, you can take a back seat and let your guests make their own food too!
---
No party's ever complete without music! If you're planning on having an outdoor garden party, you should definitely have a nice playlist ready as well as good speakers for the event. The kind of songs you'd want to play depend a lot on the them of your event. If you're having a kids birthday party, you'd want age-appropriate songs popular for kids. If it's a nice friend hangout, then something more laid-back would be appropriate.
Prepare Your Tables and Tableware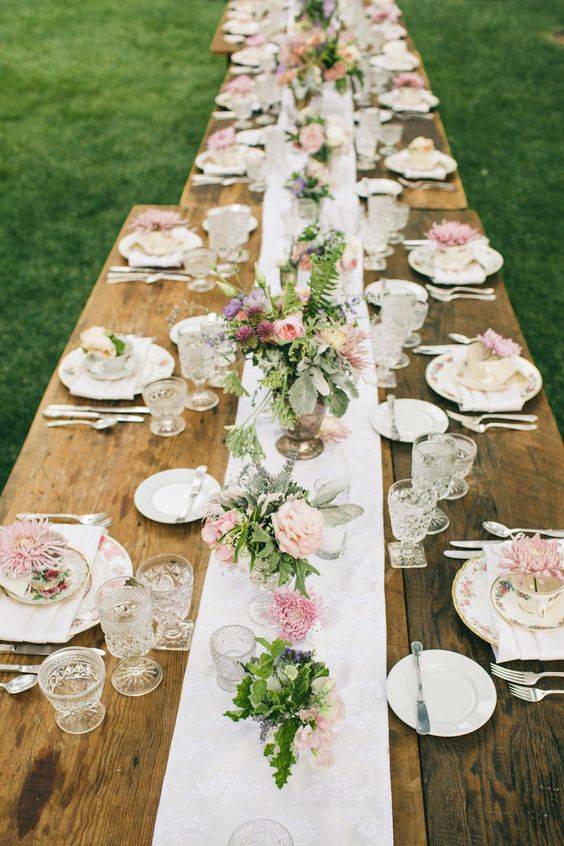 Give your outdoor table a fun touch by adding garden plants and flowers in vases for your party. You can use small pot plants or pitchers that are eye-catching and also go with the theme you have chosen or add a centrepiece to your table. If you want to create a warm atmosphere, you can uplift your table by placing a few battery-operated or real scented candles. This would really add to the aesthetic and create a wonderful ambiance for your outdoor party.
You can also decorate your outdoor table by making platters. Lots of garden party ideas include the usage of cheese boards, BBQ platters, and much more. A platter can cover a lot of space on your outdoor table and look very appetizing for a BBQ party, dinner party, and other special occasions.
Another critical element for your outdoor table would be tableware. According to the theme of the special occasion and the time of day, it is essential to find good tableware to brighten up the entire table. If you're having a daytime event, like a tea party, we recommend using cheery colours to bring a relaxed charm to your event. For a dinner party, dark-themed crockery set is better suited.
Throwing an outdoor party during the summertime can be a bit tough if you get harsh sunlight. An incredible idea to tackle something like this would be to use a garden awning, which provides shade against the mid-day summer sun during an outdoor party lunch. If you don't want to splurge on a structure, you can use any old bedsheet as a garden awning. A cotton sheet with something like stripes would really complement an outdoor setting area and would be a perfect garden decoration idea. Why let the sun stop you from throwing an outdoor party?
---
How To Make Garden Party Decorations

Garden party decor is always available in stores or Amazon to help you fill up your outdoor space. However, to add a personal touch and make your party unique, you can dabble in some DIY decor. Here are some of our favourite outdoor garden party decor ideas:
---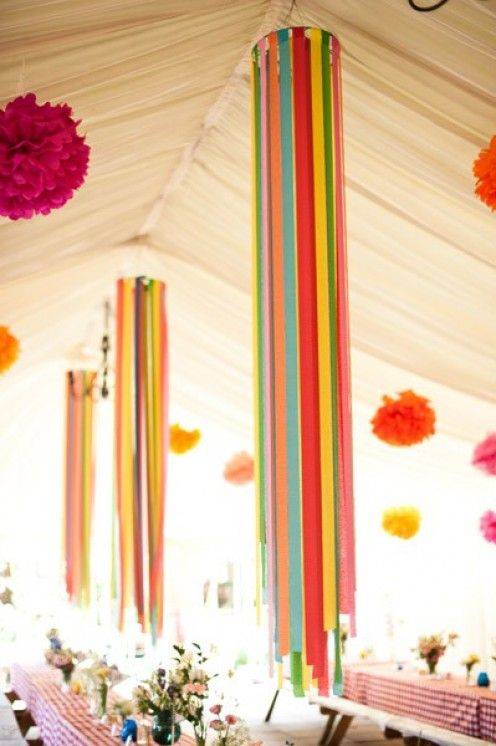 For an outdoor tea party or a daytime garden party, you could make crepe paper hanging decorations with some carton, strings, and crepe paper. By using different colours, you can add a wow factor to your party and really incorporate your entire theme into the decor. Simply placing light bulbs within the hangings could also serve as great outdoor lighting.
---
When we think about our gardens, stones and rocks are an essential part of their essence and beauty. Adding beautifully coloured stones and rocks can really uplift a garden's aesthetic look and add to its style and charm. A fun way to add a personal touch to your garden is DIY rock painting. Not only is this a way to decorate your garden, but it is also a fascinating and therapeutic activity. You can create your own colour palette or theme with your garden rocks to compliment all the other decorations that you may have.
---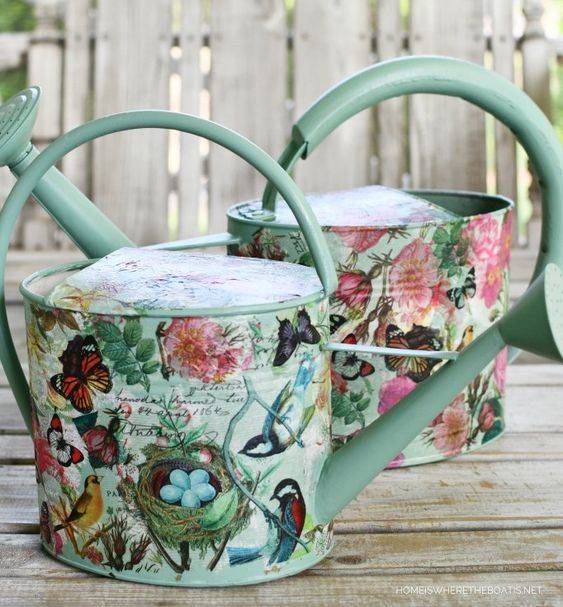 Another exciting DIY project you can take up for your garden decoration is to paint your garden watering cans. You can add fun-coloured ribbons, beads, and much more to make it a lovely showpiece that can also be used as a garden tool. This is a project like this can also motivate and help your kids get into gardening. Place your customised cans in a place where you can show them off to all of your guests!
---
One of the easiest DIY garden party decor ideas is to decorate your outdoor space with pretty textiles you might have lying around. If you have any outdoor rugs, make use of them by laying them in your garden. If not, you can use any home decor you might have outside. For a daytime party, try using textiles in nice pastel colours.
---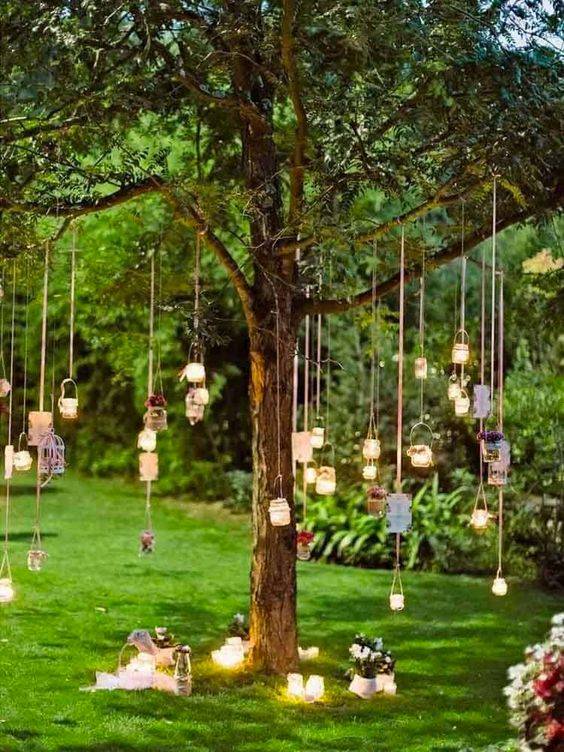 Want to make your outdoor party more intimate and special? Try hanging candle holders up at different lengths to create a warm ambience. You can use a wooden beam or hang them from tree branches. Try to use different coloured candle holders to add a nice touch, and remember to keep them at varying lengths. These hanging candles also make for a great photo-op. If you have a gazebo in your garden, you can make use of it by decorating it with candles too.
---
Another way to use your home decor for a backyard party is by making use of lampshades. If you've got any old lampshades lying around that you don't use, simply hang them up in your backyard! Ideally, try to hang them right above your table settings to give your outdoor dining table an indoor feel.
---
If you've got flowers in your garden, make use of them by making cute flower arrangements to use as table settings! You can make a big bouquet of flowers to use as a centrepiece for your table. Try and match the colours of the flower to the colours of your linen for a nice touch. You can also put individual flowers in mason jars or vases and place them all around the table.
---
Now that we have talked about all the elements that are involved in a garden party and different garden party decorations, it's time to move on and understand what different occasions we can use these decorations for and how we can style our gardens for all the different types of parties and occasions that are coming up!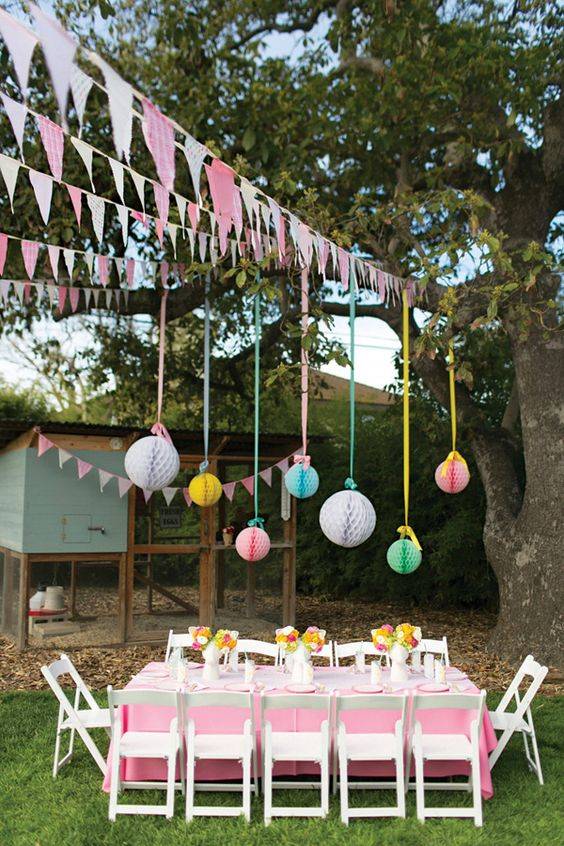 Do you want to avoid renting a place or going to a restaurant for your kids' birthday? Well, you can! You can use your own garden to throw your kids a fantastic birthday party in just a few simple steps. Hosting a birthday party in the garden is becoming a popular trend for many families.
You can get very innovative with all the little details. For a kid's birthday party, it is important to choose the theme along with the colour scheme beforehand so that it compliments all other decors. Make sure you decorate the cake table well with pastries, cookies, and obviously the birthday cake, all with the same theme.
Place a few birthday hats, whistles, and party poppers as well. You can also get an inflatable jumping castle for the kids or fit in a trampoline. Set up another small table for the themed goodie bags and make a nice photo booth with birthday themed props.
Outdoor lighting really would help bring the entire party together as well. Place some lights on big bushes or tape them around the main wall. Wrap led or string lights around a tree. Use a birthday party banner, buntings, and coloured balloons for decor. Get some birthday themed table decorations, napkins, plates, and glassware to put on the party table with the birthday cake.
Birthday cake is also an incredibly important element in bringing together a birthday party. It can also serve as a garden decoration idea. Placing edible flowers on the cake is also a great idea for any party theme, be it a movie-themed birthday or a typical dress up a birthday party.
---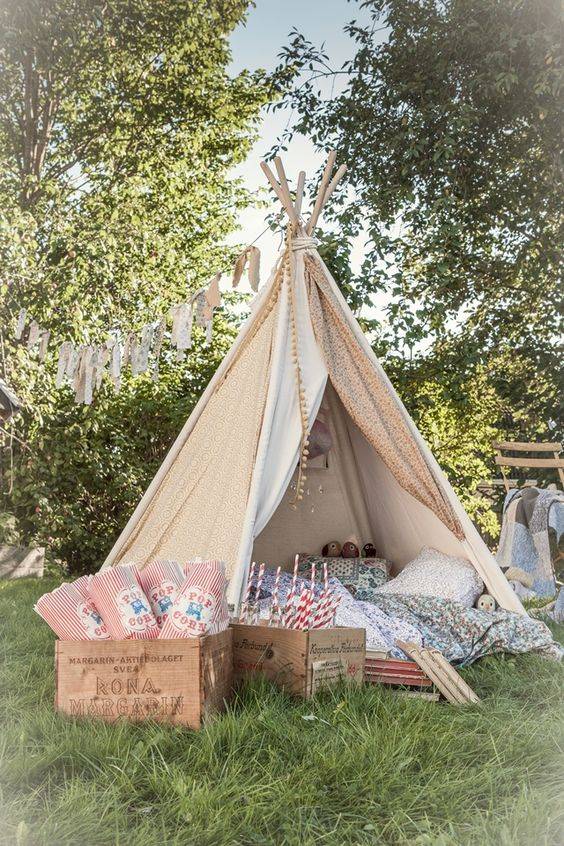 You can also give your outdoor party a camp vibe by using tents and loads of cushions. Make a DIY fire pit and place bean bags or wood logs around it. You can do a BBQ and play games and tell horror stories. The best part is, this theme works great for both kids and adults!
Hand out some hot chocolate and marshmallows along with some comfy cushions. You can also use some of your living room furniture to fill up the space; however, for a theme like this, garden furniture would be the most appropriate. Having a couple of rattan garden chairs would definitely come in handy for an outdoor camp. They're sturdy and comfortable, making them perfect for outdoor events.
Your choice of is important for an outdoor camp! Get an excellent lemonade glass dispenser and fill it up with your guests' favourite summer drink. Make sure you place an ice bucket alongside too. You can serve an easy cool lemonade using fresh yellow lemons or could be a few fun flavoured slushes in raspberry and blueberry flavours. Giving out drinks in mason jars is a great way to put a fun spin on the usual summer drinks.
---
Festivals are a big deal during the summertime, and a great way you can use your garden space is by hosting a fun-filled festival. It's easy to turn your garden into a place for a festival with these few tricks.
Everything starts off with the entrance. It is essential to make sure your entry is bright and inviting. It should be welcoming to all your guests with a few fun props and surprises. Use loads of buntings to add and enhance the colourful themes.
Next, opt for some flag buntings to place on each side and create a hanging decoration. Right next to these, you can also place paper-coloured lanterns and pom-poms. Moving on to balloons, you can opt for whatever shape and size you need and decide whether to get regular air-filled ones or helium ones. Balloons are a great way to label your party as a festival and let people know it's a party! A balloon arch or a garland is the perfect idea to perk up your entrance along and add a luxurious touch.
Be creative and place some wristbands or paper tickets at the entrance to make it feel even more like a festival. Put a few tinsel sunglasses, face paints, and face glitter out and make a mini get ready station near the entrance with a stand-up mirror where people can apply some glitter or paint as well.
You can incorporate even more activities for your outdoor party festival, such as a meditation area or a crafting station. If your guests are creative, why not get them to show their creativity during the festival?
---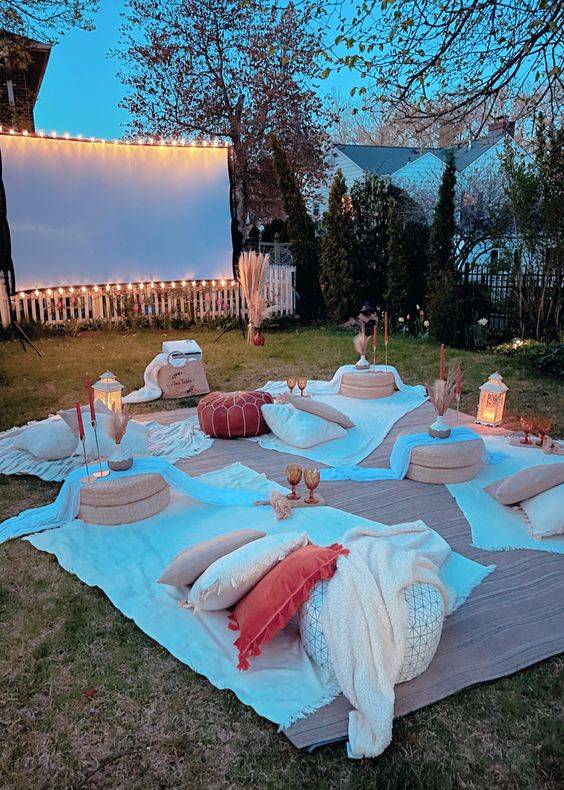 Another great theme is an outdoor movie night! Turn your backyard into an outdoor cinema by using an outdoor projector. Simply set up the projector on a table and make it face a good surface to play the movie on. Usually, any plain white wall should do. However, if you don't have one in your garden, you can hang up a white sheet as an impromptu movie screen.
Once you have your screen set up, make sure there's plenty of seating for your guests. You can use beanbags, large cushions, or set up outdoor sofas and chairs. A rattan sofa set is a perfect choice for an outdoor movie night because it's spacious and comfy. Make sure you have lots of pillows and blankets so everyone is comfortable! Lighting for a movie night is also easy. You can use festoon lights and lanterns to create a lovely nighttime glow.
Arranging for food and drinks also isn't difficult. Just make sure you have popcorn, crisps, and drink options available for everyone and you're set for a fun night!  
---
When the warm summer months come and the sun is shining, you have to make use of your garden! Throwing a nice garden party is always a great way to connect with friends and family, so if you've been thinking about it for a while, now's the time to finally host one.
With our list of ideas, you'll be well-prepared for any kind of party you decide to host. Just make sure you take care of all the garden party must-haves and try to DIY your own decor to save money.
---