Get Jubilee Weekend-ready with these front garden upgrades
Get Jubilee Weekend-ready with these front garden upgrades
From 2nd-5th June this year, the nation is set to enjoy an extended long weekend in honour of Her Majesty the Queen's Platinum Jubilee. Celebratory events are springing up all over the country, and street gatherings and garden parties are sure to be a common sight throughout the UK.
We know that most people usually spend time outside in their back garden, not their street-facing front garden space. In fact, the Royal Horticultural Society say that over five million front gardens in the UK have no plants growing in them at all, as a result of people paving over their unused garden space to make it easier to manage. But with Jubilee weekend on the horizon, people all over the nation are preparing to bring out deck chairs and bunting to front yard spaces so that garden parties and street parties can join together in celebration.
If you're planning a Jubilee garden gathering of your own, the good news is that there are plenty of easy front garden upgrades you can use to impress the neighbourhood, whether your space is green, grey or gravel. Need to get Royal Ready for June? Here's how.
---
Add potted plants for easy-to-relocate colour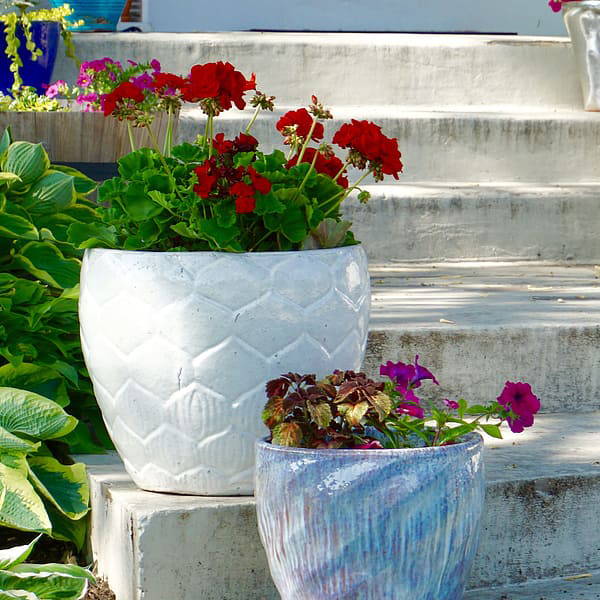 ---
If your front garden is normally used for parking, we know you won't want to decorate with anything that can't be removed once the festivities are over. That's where potted plants come in.
Whether you favour bright colours or lush green foliage, a few potted plants can bring an immediate visual boost to grey or unloved front garden spaces. Opting for red, white and blue blooms is a failsafe way to bring Jubilee spirit to your garden, and there are plenty of seasonal British flowers to scout out.
In late May and early June, forget-me-nots and cornflowers will bring a splash of blue to your pots, while roses and sweet peas can be found in red and white varieties. Position pots around your front door for framing, and dot in empty corners to give a bright and welcoming feel.
Once Jubilee weekend has passed, you can either leave in place or relocate the plants to your back garden – or even give away as gifts!
---
Upgrade your outdoor dining arrangements
---
If a few years of lockdowns haven't already driven you to invest in an outdoor dining upgrade, Jubilee weekend is as good an excuse as any. From switching out flimsy picnic plates to replacing cracked plastic sun chairs, one simple way to give your garden party an uplift is to do away with the unloved items stored deep in cupboards and sheds, and invest in fresh new outdoor tableware and seating.
There are plenty of brands now offering luxury outdoor tableware, from break-resistant wine glasses to colourful melamine serving sets. With options for every budget, this is a straightforward way to polish up your public party setting.
Equally, if you're planning to lounge in the sun and watch the festivities throughout the day – and you'd like to keep guests comfortable too – an outdoor sofa could be just what you need to quickly turn your front garden from wasted space to cosy hangout. Our rattan sofas are designed to last for years to come when properly cared for, so you can relocate them to your back garden or patio after Jubilee weekend.
---
Use Royal gardens as design inspiration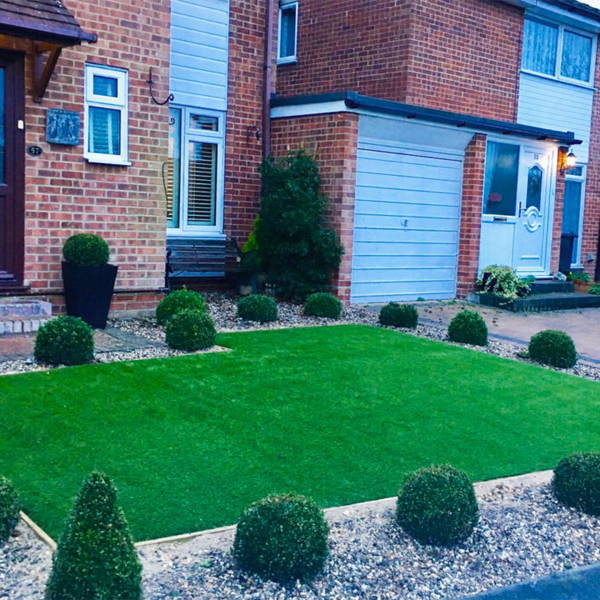 ---
If you're planning to go all-in and want something more than a stylish lounge space and a little extra colour, take inspiration from Royal gardens at destinations like Hampton Court Palace.
Manicured lawns, trim topiary and historic statues may not seem like something you can recreate in a front garden – not least because many UK front gardens are only the size of a parking space. But with the help of a roll or two of artificial turf, potted buxus bushes and a carefully-placed ornament or two, you can create your own Hampton Court Palace in a small space and on a small budget.
With rolls of artificial grass starting at around £5 online, small buxus bushes at £15 and small garden statues at around £40, we'd estimate that you could recreate a Royal feel for between £100-200 depending on the finished look you're after.
---
It wouldn't be a classic British garden party without plenty of bunting. To socialise late into the evening, wind fairy lights around your bunting before or after hanging, so that you can switch on a little sparkle as the sun goes down.
We've previously researched the best places in the UK to host or attend a garden party based on average summer sunshine and rainfall, with Bristol and Southampton coming out top, but don't worry too much if your home town or city didn't make the top 10. June is typically one of the driest months of the year in the UK bar July and August, and though warmer temperatures aren't at their peak, you can expect a mild to warm climate for the Platinum Jubilee weekend.
If you're planning a community celebration for the Platinum Jubilee, why not add it to the event map so that your neighbours can join the fun? Or, just find events in your area at https://platinumjubilee.gov.uk/events/ 
---