How To Choose The Best Material For Garden Furniture
Garden furniture comes with so many different options that it can be a tough task to work out which items or material is the best.
---
Things to Consider When Purchasing Patio Furniture

So first, let's turn our attention to the main things you need to consider when it comes to purchasing your new patio furniture. For us, there are several important points to consider when searching for garden furniture.
Clearly, the outdoor space you have available is key. Do you have the space for a coffee table, corner sofa and some armchairs? Perhaps you only have space for a couple of garden chairs and that's all? No matter the space, there is something there for you when it comes to your garden furniture set.
2. How You Plan on Using Your Patio Area
Another key area is on how you plan to use the patio area. Do you just want to relax with you and your family? If so, then a daybed or sofa set could be perfect. However, if you want to entertain guests and have barbecues on those warm summer days, then something set up for alfresco dining is better.
3. How the Furniture Deals with the Weather

Do you plan on keeping your furniture outside year round? Knowing if your outdoor seating is weatherproof, or at least how to protect it from the weather, can be important. Having something that is weather-resistant makes such a difference. Keep in mind the British climate and to combat the climate's effects, we've written about the best treatments for wooden garden furniture. Even that wooden garden bench will start to suffer if you don't protect it in the right way.

If you plan on using your rattan sofa on a regular basis, then make sure the frame is rust-resistant, and that the rattan is either protected or is synthetic. Understand that the seat cushions will need to be removed from your lounge chair in order to preserve them for longer.
4. How Many People Will Be Using it?
Aside from space requirements, knowing how many people will tend to be using the patio furniture is something else to consider. There's no point in purchasing a two seater sofa if more than two people are often present.

It's always best to go for more seats or items than you may think you need on a regular basis. After all, you don't want guests to be left out simply because your garden dining set is too small for the numbers.
While knowing how many people will use it is not an exact science, there's no doubt you can work out a rough number. We aren't talking about hot tubs or anything like that. But knowing the size of outdoor sofa you need is something everyone needs to do.
Caring for your outdoor furniture is important if you want it to last for some time. However, knowing how to look after your garden sofa means understanding the maintenance side of things. How you maintain something with the rattan effect is different to acacia wood.

Consider how much maintenance you are willing to do. Invest in furniture covers to help protect, and this will also reduce the level of work required to correctly care for your furniture.

As long as you keep those few points in mind, then finding the right patio furniture for your needs should be easy.
---
The Different Types of Materials

Garden furniture does come in different types of materials, and understanding what each one offers is important when making your decision.

From teak, and other types of wood, to rattan garden furniture. From plastic to furniture containing different materials for the upholstery. You may also notice different materials being used on the same dining table or lounge set, and that simply adds to the sheer number of options out there on the market.

However, to help you with making your decision, here is a short list of the different materials and why they could be good or bad.
Wooden garden furniture has been around for a long time. Teak is a common wood used for outdoor furniture as it contains a natural oil that partly repels water. It does require regular treatment to keep it looking fresh, and an outdoor cover would also be best.
Small metal bistro sets are popular, and while they can be rather ornate and decorative, they are prone to rust if not cared for correctly.
Rattan is available in both its natural form and a synthetic version. Built on a metal frame, its versatility knows no bounds. Used on a variety of outdoor furniture, it can be treated to make it more weatherproof, but still requires covering if being left outdoors for a prolonged period of time.
While we have already mentioned synthetic rattan, you may be aware of outdoor sets combining metal frames with material for the seat and back. This can be an inexpensive option, but you must be aware of protecting the items or the weather will work away at weakening the material.
Plastic outdoor furniture will be completely waterproof, so if you do not want to cover things, then this is a viable option. However, you may still want to invest in cushions to make it all that bit more comfortable.
While you may come across other rarer materials used in outdoor furniture, those are the most common.
---
Best Garden Furniture Types for Outdoor Dining
If you plan on indulging in some outdoor dining, then knowing the best garden furniture type makes sense. After all, when you want to wine and dine, you need the equipment to back up your ideas.
When looking at a dining set, then it's obvious as to the items you need, and rattan covers all bases. From a strong and sturdy table to extremely comfortable chairs, it does mean you can sit in comfort while enjoying your food.

Dining alfresco means you need to choose if you want a 4 seater, 6 seater or bigger, depending on your needs. The good news is that we do have a multitude of different types of outdoor furniture available for you to check out.

Pay attention to the different dining chairs on offer. Do you want them to be stackable for easy storage? Do you need them to be foldable to make life easier thanks to limited space?

But there's a bit more to this than simply thinking about the garden table that will work best. We also suggest checking out garden parasols to give yourself, and your guests, some cover. Once again, they come in various shapes and sizes, so be sure to purchase one big enough to cover your dining area. You don't want someone being left out in the sun while everyone else enjoys the shade.
---
Best Garden Furniture Types for Balconies
Moving onto balconies, then often space is limited. Yes, you may have space for sun loungers and a parasol, but it's important you don't take up too much of that restricted space.

In this instance, a bistro set can be the best option. Not only is it highly functional, but it also takes up limited space. Depending on the size of your balcony, a deck chair could be another viable option.

However, if you want something that looks a bit more 'funky' and fun, then egg chairs could be something else you may like to consider. A couple of chairs, along with a side table can be perfect for small spaces.

But with balconies, you need to know how to store the furniture. Will you cover it on the balcony? Will you move it inside? That can also determine the furniture you purchase, as foldable or stackable may be required due to those space requirements.
---
Best Garden Furniture Material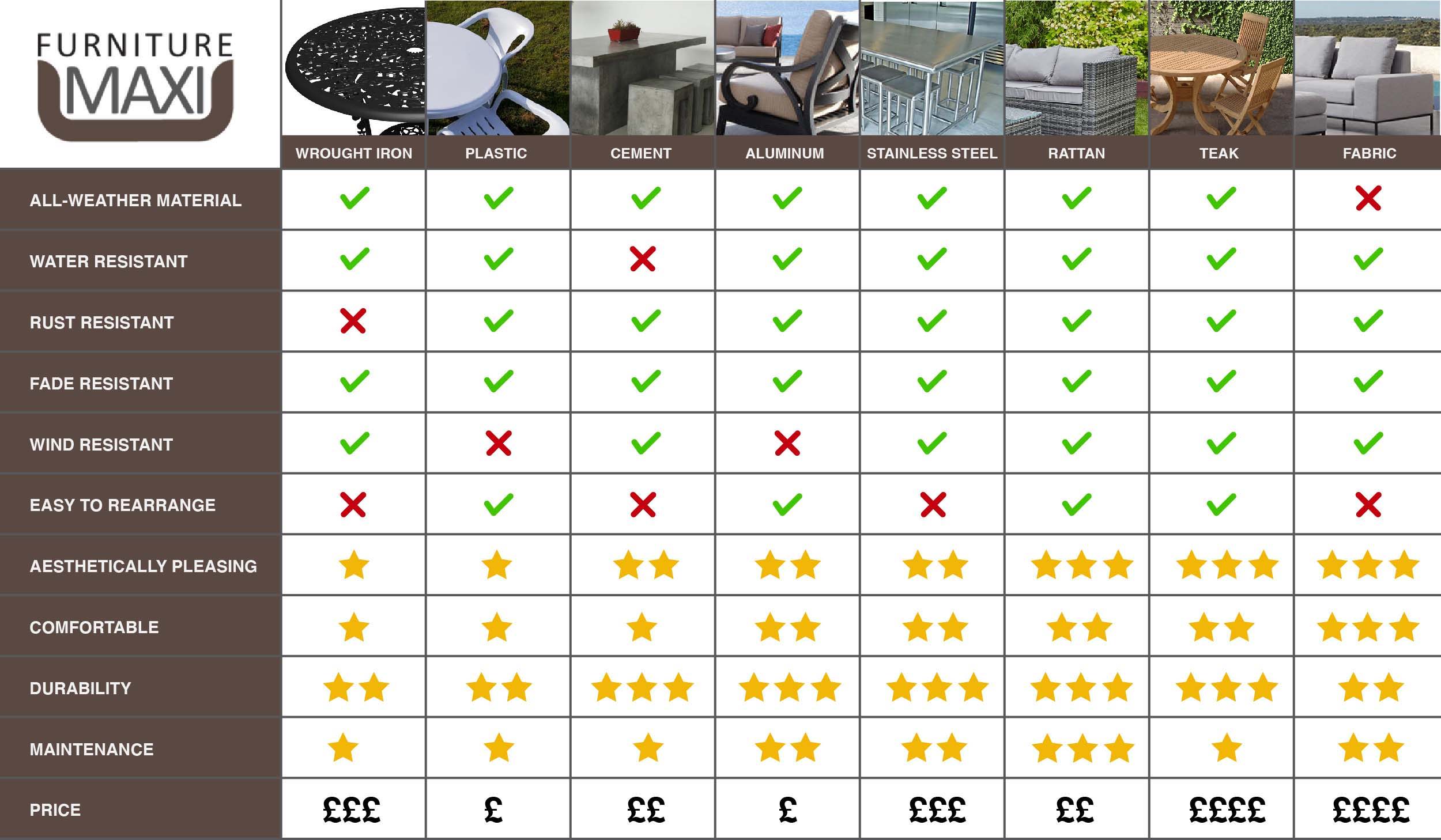 ---
And finally, how about the best garden furniture material for your outdoor space? Well, we can only come to one conclusion, and that is by saying rattan is undoubtedly the best. Its versatility, durability, and comfort stand out from the rest. Oh, and it is easy to maintain and care for it as well.

There is also the fact that rattan never goes out of fashion. It always looks fresh and modern, while it can be used in any garden no matter the rest of your outdoor decor. The aluminium frame contained within the furniture makes it lighter than you expect, but don't make the mistake of thinking light means flimsy. Instead, rattan is a strong and reliable material, no matter if it's used for a table set, a 2 seater, single chair or anything else.
Overall, if you want something that is easy to care for, and yet a highly effective piece of garden furniture, then rattan is where you should be focusing your attention.
The best garden furniture goes beyond the material it is made from. Functionality and practicality is the key here. Focus on the key points mentioned earlier in the post and think carefully about your needs and requirements. Once you have that sorted in your mind, move on and look at the items available, and perhaps try to focus on rattan compared to other materials. We are sure you will fall in love with the material, its looks, and how it will make such a difference to your outdoor space.
---