Maintenance & Care For Garden Rattan Furniture
Tips For Extending
the Lifespan Of Rattan Furniture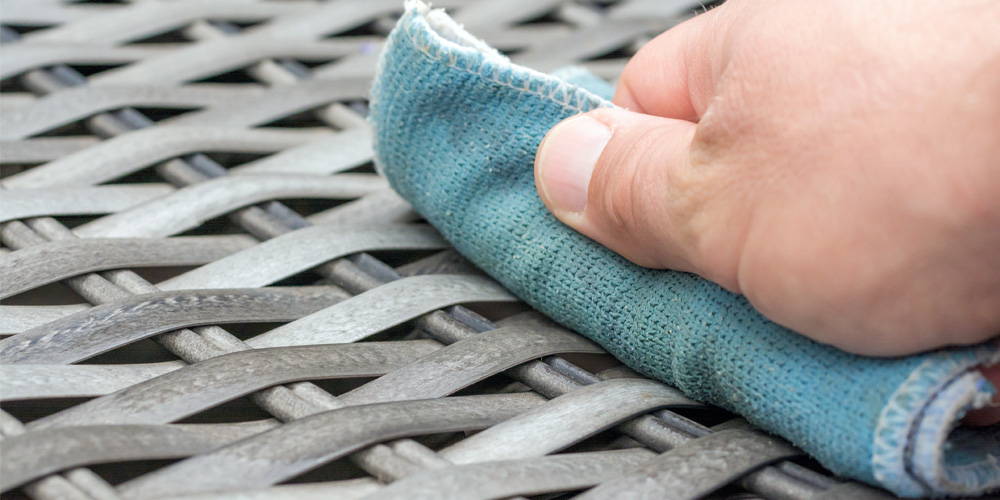 ---
Garden rattan furniture is able to stand up to the testing nature of the British weather, however, it still requires some TLC along the way to ensure real longevity. Read on to find out the best maintenance and care for garden rattan furniture so you get full value for money.
One of the best places to start is to purchase rattan covers that allow you to weatherproof your rattan garden furniture. The natural properties of rattan provide it with a certain level of protection but in furniture form, it can only withstand certain levels of rain, wind and snow without additional help. These weatherproof garden furniture covers are cost effective and last for years, keeping the furniture shielded from the elements and also meaning it can be left in place in the garden without having to be removed off-season.
No matter what type of rattan garden furniture you have it needs to be treated with gentle care when it comes to cleaning. Whether you own a rattan outdoor sofa, armchair or garden dining set, it's best to avoid applying any sort of harsh cleaning chemicals that could damage the integrity of the material. Even furniture polish is not really a requirement when it comes to cleaning furniture for the garden. Use a soft cloth to wipe away dirt and there are other methods that can be used to remove deeper stains and marks.
Your rattan garden furniture should never need more than soapy water when it comes to having a slightly heavier clean. However, be sure never to drench your rattan chairs in water as over saturation can potentially weaken the material and even lead to mould and rot. Always wring out the cloth before applying it to the rattan and once you have finished cleaning try to leave the furniture outside to dry naturally.
---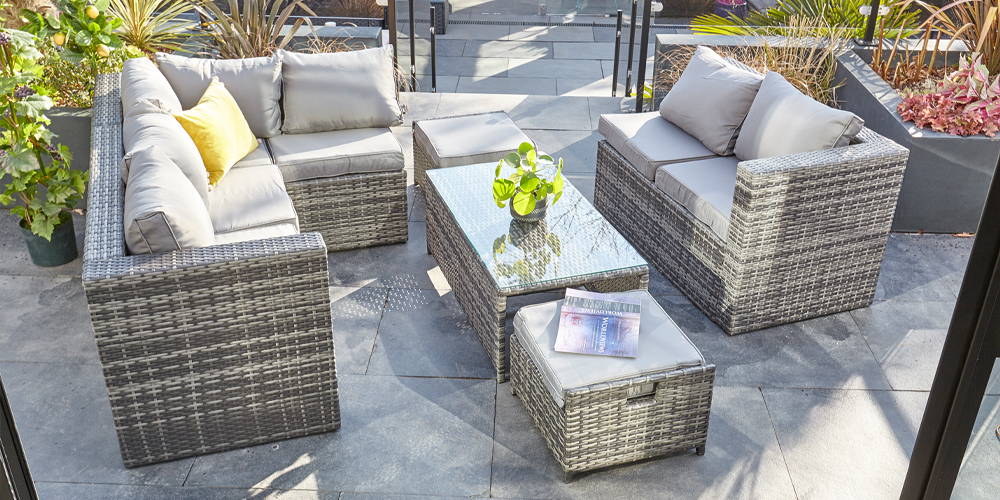 If left untouched your mildew can quickly spread and ruin garden rattan furniture entirely, so it needs to be dealt with as soon as it is spotted. When used as conservatory furniture, rattan needs to be kept warm and dry with good levels of ventilation to discourage mould from forming. But if you do spot mildew of any kind, scrub it away with a soft brush using a 50/50 mixture of bleach and water. Wipe down the rest of the furniture with a damp cloth to remove any residue and then use a damp cloth to wipe down again with clean water. It's also a good idea to pat the furniture for garden down with kitchen paper to absorb some of the moisture, before leaving it to dry naturally.
Cleaning out crevices and corners
While wiping down the arms, legs and seating areas of rattan garden furniture is a relatively straightforward job, you may be stuck on how to get into the crevices and corners of the seating area. The most simple way to clean rattan chairs and garden sofa sets is to use a vacuum and brush attachment. This will get into those hard to reach areas to clean up small pieces of food and dust that settles into the nooks of the chair.
Dealing with split rattan
Like any kind of natural material, rattan will react to its immediate environment. So while the material originally comes from a hot country, you still need to pay attention to the surrounding temperature after it arrives. Often if left exposed to severe levels of heat for too long, rattan garden furniture can begin to dry which can then lead to warping or cracks developing. To avoid this occurring, apply tung or boiled linseed oil to the surface of the material.
Not only do you want to protect the feet of a rattan outdoor sofa, garden dining set or rattan chairs, but also the floor too. The constant movement of the furniture can create small areas of damage that may escalate over time. The same applies to flooring, especially when used indoors as conservatory furniture, leaving scuff marks that are difficult to remove. Adding rubber stoppers to the feet is a good way to prevent this from happening, protecting your rattan garden furniture and flooring at the same time.
---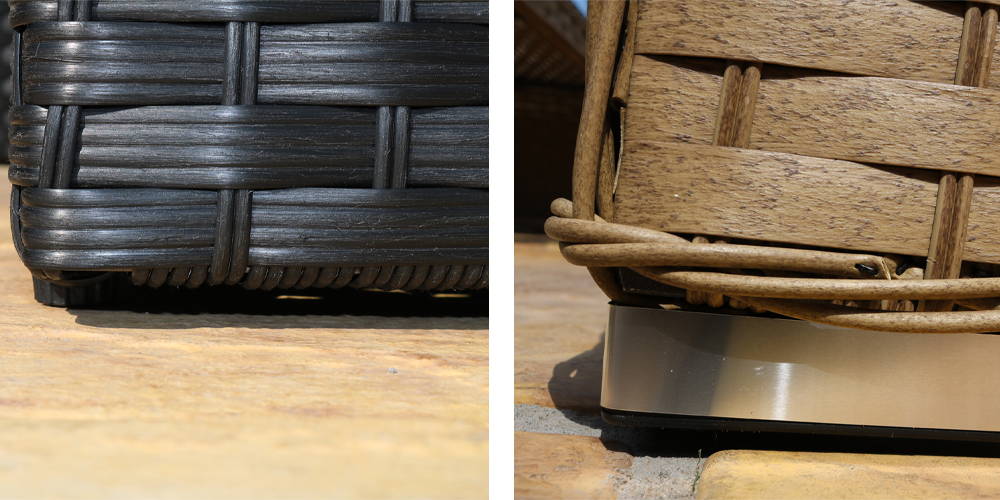 ---