10 Ways To Decorate Your Rattan Garden Furniture
Having outdoor garden furniture can bring your boring backyard to life. The best part about rattan furniture is the many ways it can be styled. For example, you may think that rattan furniture can only be used as a casual seating arrangement; however, with a few added furniture decor pieces, you can create an eye-catching lounging space in your garden. Rattan furniture is incredibly versatile, which is why it is possible to style it in so many exciting ways (painting rattan garden furniture is one example).
However, by having so many options at hand, picking the right style for your garden can be a bit confusing. Here are a few ideas you can draw inspiration from if you would like to style your rattan furniture decore for your garden.
---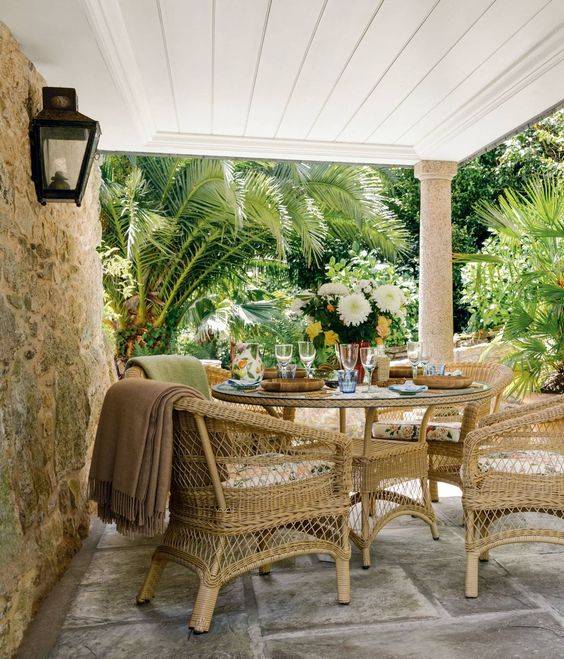 The best part about country-style furniture is its simplicity. Keeping the look minimalistic and adding a few simple pieces will allow the rattan furniture to stand out and shine on its own. Having a country style dining room is not difficult to achieve. All you need for this look is a simple country style solid wood dining table and some centre decor pieces. These would include things such as white candles in glass containers, some neutral coloured throws and a subtle coloured vase with a bright bouquet of flowers to break up the monotony. The covers for your rattan furniture cushions should not be too bright so as to distract from the furniture. However, a touch of colour will help the space look more balanced.
---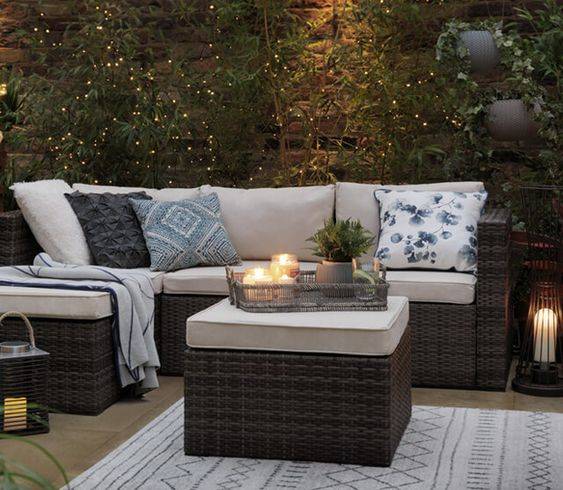 Rattan furniture looks exceptionally appealing when styled in contemporary fashion. Especially if it is placed in a garden where the natural beauty of the outdoors compliments the modern yet traditional style. With outdoor furniture, you have to keep the theme light and graceful to get this contemporary look. Adding a muted throw onto beige-coloured seating subtly elevates the look. Throw in a few modern-looking printed cushions to give your furniture a touch of present-day grace. It is essential to add decor pieces to this look. So make sure to place a glass vase with a green or any other monotone, subtle coloured bouquet and some large candles. A large metal or wooden display tray that holds all the decor pieces can be placed on the centre table to tie up the whole look.
---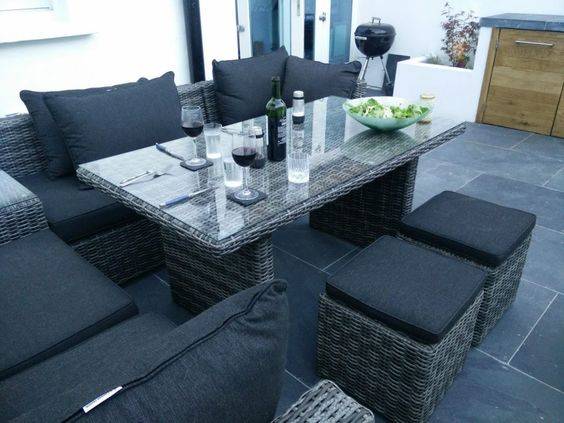 https://www.pinterest.com/pin/275001120986153868/ 
Many people assume that rattan furniture cannot give a cutting-edge industrial look. However, the entire theme, minimalistic but classic, will result in an attention-grabbing, modern industrial look. It is best to add an outdoor rattan dinner table with glass on top for this look. Using large monotone cushions in black or neutral colours will help achieve an effortless avant-garde look. A contrasting piece of decor, such as a white salad bowl, will draw the eye towards the setup and prevent the setup from looking drab.
---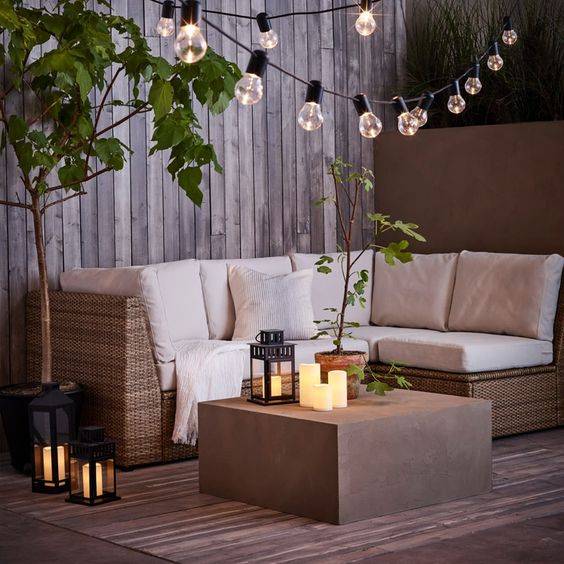 https://www.pinterest.com/pin/190769734206536795/ 
Rattan furniture has a natural grace to it. Paired with specific colour themes and appropriate decor, it makes for elegant outdoor seating furniture. This style can be achieved by using light-coloured seat cushions and pairing them with light-coloured decorative cushions. The decorative cushions can be the same colour as the seat cushions to give a well-rounded look. But to add some colour to your living room, use a mellow but different coloured sofa throw and a neutral rug. Complete the look with different types of lighting such as fairy lights, white candles, and contrasting black candles to give a soft and charming look. Using plants can also help to enhance the beauty of the look. However, avoid using very bright coloured plants to maintain the overall theme.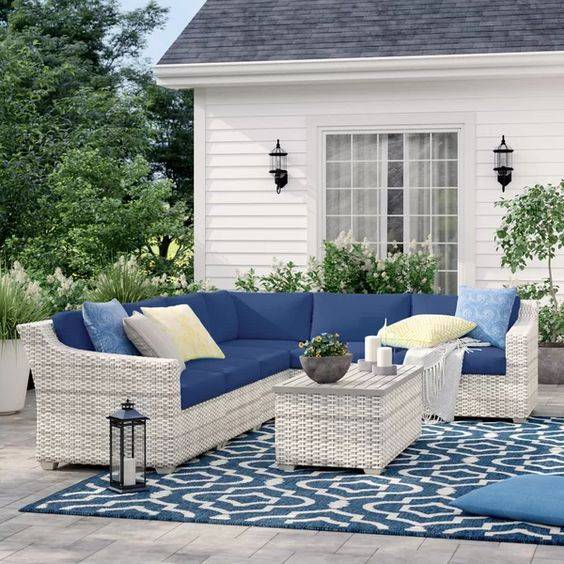 https://www.pinterest.com/pin/26599454039952995/ 
Coastal style designs can be a breath of fresh air in an otherwise drab garden set up. This artsy style is quite refreshing because of its bright colours and fun appearance. To achieve this look, use dark blue-coloured seating cushions and contrast them with lighter coloured cushions in blue and yellow tones. You can also add a patterned blue and white rug and some blue coloured floor cushions to the mix to make the furniture pop. Adding a few decor pieces such as a modern lantern and a small vase on the side table can help to complete the look.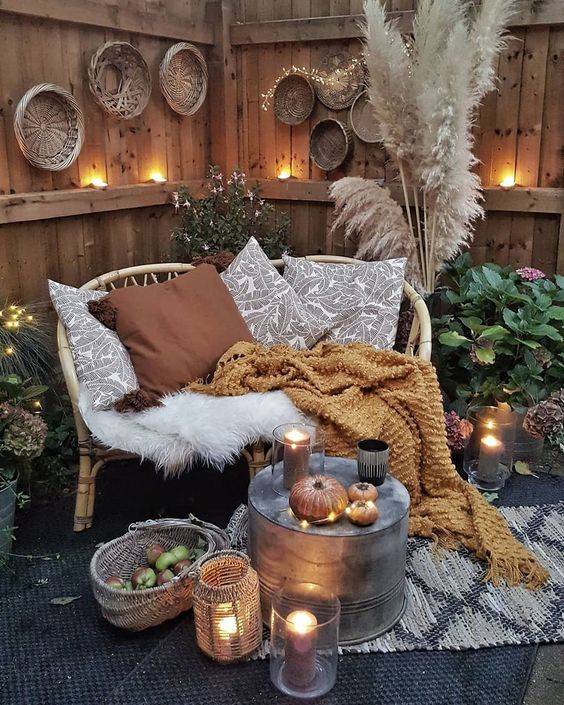 https://www.pinterest.com/pin/70437483565828/ 
An eclectic style of rattan furniture decor is a great way to spruce up your garden. The boho decor adds an inviting feel to your outdoor garden rattan furniture and makes the space seem magical. You will require numerous decor pieces in warm colours such as browns and rust-orange for this look. Use a variety of decorative pillows of different patterns, colours and textures and complete the look with a neutral sofa throw. You can use candles and rattan baskets along with a rustic wooden coffee table to add more character to your setup. You can elevate the entire bohemian look by using dream catchers and feather-decor pieces.  
---
https://www.pinterest.com/pin/540502392789519353/ 
A cosy style rattan furniture decor in your garden will make for the perfect coffee spot with your friends and family. You can incorporate different textures and patterns to make the space seem more inviting for this look. Adding cosy detailing such as a large pink woollen sofa throw, a fur sofa throw, and numerous soft decorative cushions in various mellow brown colours will help make the space look casual but aesthetically pleasing. Pink flowers and wicker decor pieces are a great addition to this look.
---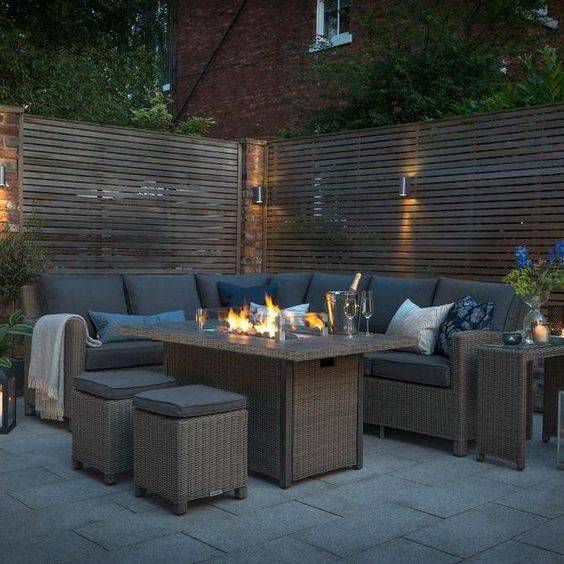 https://www.pinterest.com/pin/187321665742067832/ 
A clean, non-cluttered chic look is excellent if you're into minimalism. Dark toned rattan furniture creates a modern-chic look that can captivate guests. However, the pièce de résistance for this look is the modern fire table. You can complement the firepit table with dark seating cushions, a few white monotone decorative cushions, and a beige throw over some rattan chairs. However, there is no need to add too many decorative pieces to this look as they take away from showcasing the elegant furniture and firepit table.
---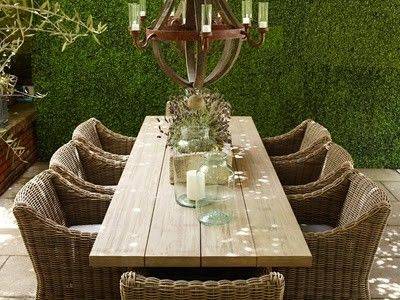 https://www.pinterest.com/pin/30962316162429164/
An old fashioned rustic outdoor setup never goes out of style. To get this graceful look, you can pair your rattan furniture with off white decorative cushions that contrast with the deep grey of the seating cushions. You can also add off white candles and lanterns to your outdoor dining table to make it look more appealing. Using white coloured table runners and brown placemats ads and old-world charm to the setup.
---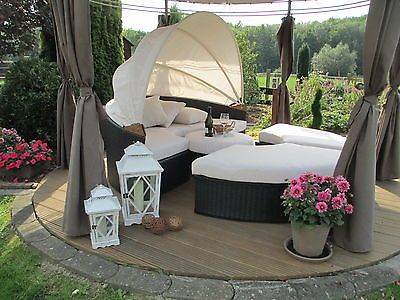 https://www.pinterest.com/pin/496029346461936122/ 
One of the most favourable styles in today's times is the modern urban style. This style is a great way to showcase your rattan furniture decor and ensure the area combines modernism, elegance and contemporary style. You can subtly enhance its beauty by adding white coloured, rounded seating cushions and white coloured lanterns to this new age look. Furthermore, adding a pot of bright flowers will add a rustic and bright touch to your setup.
---
Rattan furniture decor can be styled in numerous ways for an outdoor garden setup. However, it is important to stick to a theme so that your furniture looks well put together and appealing. Use our helpful guide on some excellent ideas to style your garden rattan furniture.
---
---