Garden Furniture Trends for 2020 | Furniture Maxi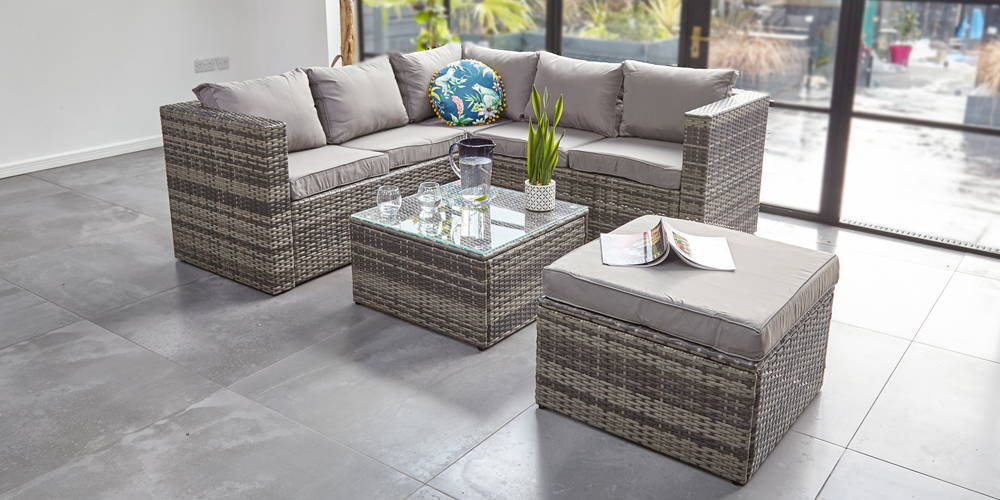 ---
Thanks to the internet we now have more access to garden furniture than ever before, which means we are able to craft the perfect home and keep on top of the latest design trends. Below we go into more detail about garden furniture trends for 2020 so you can get the most out of your home and garden spaces.
Extending Your Home Into The Garden
The line between the inside of your home and the outside space is becoming more blurred as the years go by. This can be seen with the ongoing trend of large bays and extensions being attached to living room areas. Outdoor spaces are increasingly being designed to allow people to wander from their home out into the garden and vice-versa without any hassle, allowing you place rattan table and chairs close by to enjoy the lovely weather once it arrives.
---
One thing that outdoor garden furniture always needs to deliver is comfort and that continues on into 2020. No matter the colour or type of modern garden furniture it needs to promote wellbeing. Rattan dining furniture fits this profile perfectly, offering high levels of resistance without being rigid, allowing you to sit back and relax in style. Chairs modelled in PVC nylon also offer good flexibility to ensure you can upkeep them for long periods of time. Furniture with large cushions and sofas with spacious cut outs will also be on trend for the year.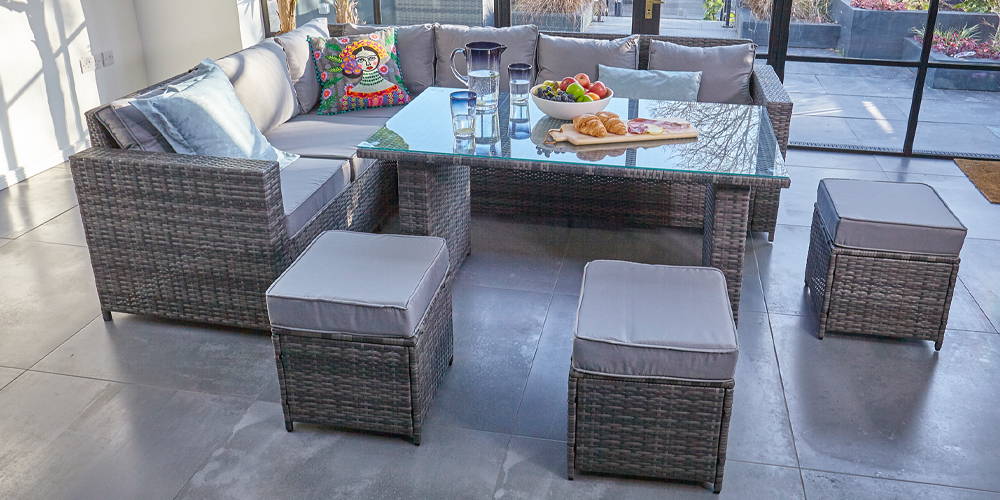 ---
While rattan garden furniture remains a staple, people are starting to look for more additions to customise their gardens and outdoor living spaces. From trivets to pedestal tables, a key trend for this year will be to accessorise the garden in a similar way we do to the living room, using small trinkets that offer character and personality. It creates a more personal and warm atmosphere that homeowners want to create inside their homes, further extending the idea of how the garden has become a natural extension of the spaces found inside the four walls.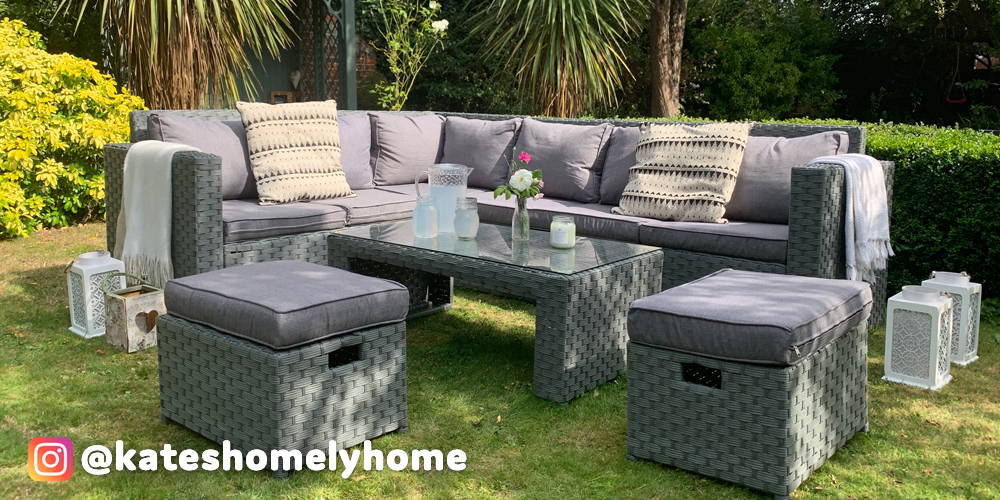 ---
Infusion Of Exciting Colours and Textures
The world remains as interconnected as ever and that will continue to be reflected in garden furniture this year. Whether it's throws and covers used on rattan garden furniture, or the addition of exotic styles to reflect a broader view of the world through use of cushions and baskets, influences from around the globe lead the way. Scandinavia continues to be a big source of inspiration, while earthy tones such as brown, terracotta, coral and roses will sit perfectly in the garden.  
---
Once upon a time, cooking and eating outside was a thing people in the UK only did occasionally. But that has changed dramatically over the past 10 years and will continue on into 2020 and beyond. Where pop-up structures were once temporary, they are now permanent, featuring built-in cooking areas with pizza ovens designed for barbecues, along with storage and prep spaces. The official Pantone colour for 2020 is Classic Blue, which will be a natural fit for rattan garden furniture such as outdoor furniture sets and round garden sets.
In keeping with the use of the garden as an extension of the home, we will see more and more people looking at installing permanent lighting solutions. Solar-based options have been the norm for some time, but with outdoor spaces being used more often and people purchasing more rattan garden furniture and other complementary pieces, the need now is to have fixed lighting in place. Outdoor furniture sets will benefit greatly as it allows for longer term use, while the illumination of outdoor walkways and steps ensures higher levels of safety.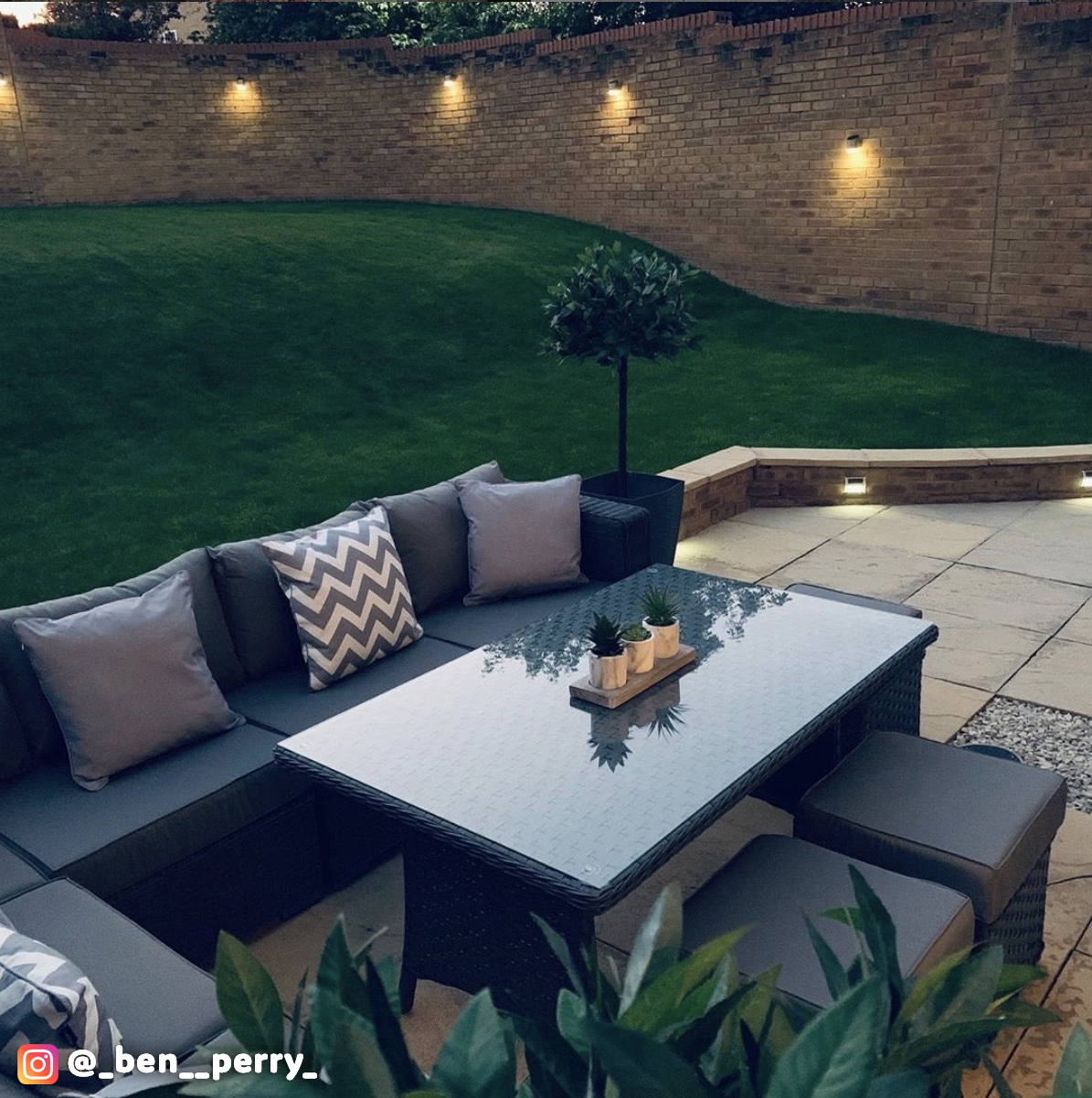 ---
Weather Resistant Furniture
Rattan garden furniture is already renowned for its weather resistant properties, but it's a need that people continue to look for in other items. The British weather is unpredictable at best, which means you need modern garden furniture that is adaptable and offers longevity. Rattan cube furniture is always a good starting place, as are items that are aluminium or iron based, such as cast tables and chairs that also ensure a sense of classic timelessness.
---
---