How To Choose The Best Rattan Furniture For Your Garden
Last Updated 14 April, 2021
Rattan garden furniture has become one of the most popular choices for homeowners right across the UK. These furniture sets bring style, comfort and longevity and fit perfectly into any outside space, large or small. Before you spend your hard-earned cash it's important to do your research to understand what you need to look out for to make the right purchase. To give you a head start, here's how to choose the best rattan garden furniture for your garden.
---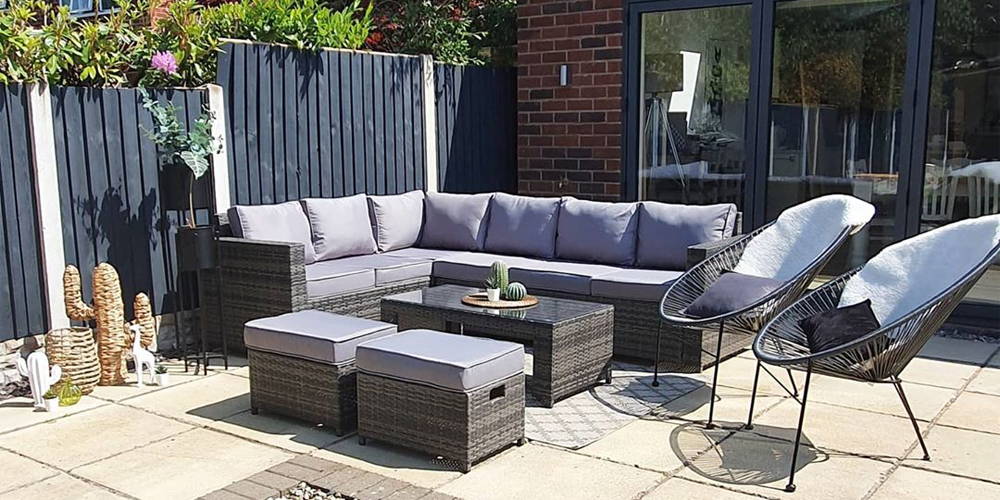 ---
Price doesn't always dictate quality, which refers to both cheaper rattan garden furniture and furniture sets that are priced at the higher end of the market. Pay close attention to the materials that have been used to make the furniture as this will give you a clearer indication on the value of what you are purchasing.
For example, rattan garden furniture made from PE or HDPE are specialised materials that will invariably cost more. While ranges from PU or PVC can also offer reliable quality, although not as much as the premium materials. Going cheaper will usually mean lower levels of weather resistance and durability and possibly higher levels of maintenance, but if the price fits into your budget they will still make a worthwhile investment.
Quality matters when it comes to buying rattan furniture and like anything else this will be reflected in the price tag, so it consider it a future investment for your home and weigh up how much use you will get from it.
---
Consider Maintenance Requirements
You should give consideration to the amount of work that may be required to keep your rattan garden furniture in good shape. Whether you buy premium or budget pieces, you still need to carry out some level of maintenance as it plays an important role in maximising the value of your purchase. This is especially true during the COVID-19 period if family or friends come to visit your home, as you are likely to spend more time outside to maintain social distancing, which means the furniture pieces need to be cleaned more frequently.
Good quality natural rattan is very low maintenance, so whether investing in a garden sofa or rattan dining set you won't have to work too hard to keep it in good condition. It's a good idea to avoid synthetic rattan as the quality can often be lower and not as reliable, which will increase the amount of maintenance and care you have to provide.
A smart year-round choice is to use waterproof cushions for outdoor furniture to protect against rainfall, especially for rattan patio furniture that is more exposed to the outside elements. Some fabrics such as PVC mesh, polyester or solution dyed acrylic/olefin always stand up well to testing weather conditions throughout the year.
---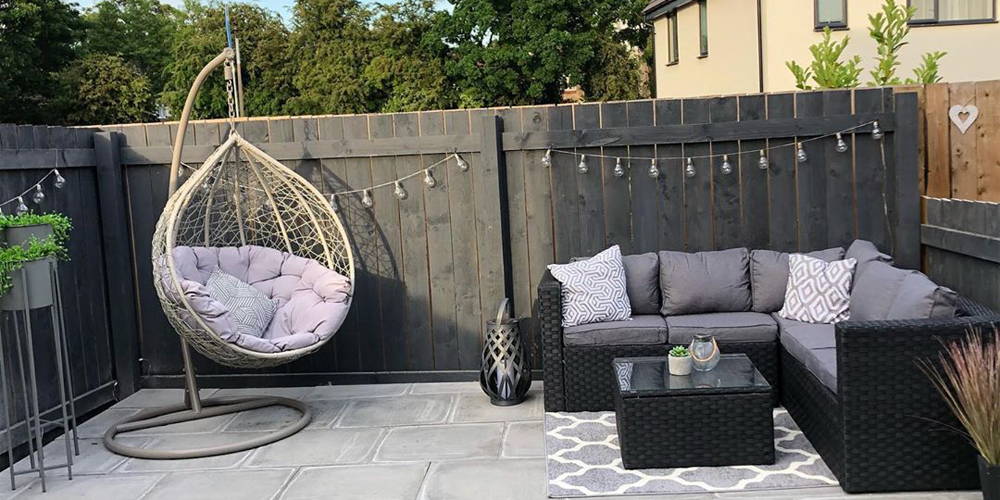 ---
Think Of The Colour Scheme
Whether you choose grey garden furniture, or furniture sets of any other colour, it's important to strike the right tonal balance to suit the surrounding environment. Classic colours tend to be the most popular, be it greys, blacks or browns, which are available in a range of different shades. Opting for one of these colours means that even if you move home, or the garden or house aesthetic changes, the rattan garden furniture remains adaptable enough to still fit in.
And don't forget, if you want to change up the look of any of your garden furniture sets you don't necessarily have to go out to purchase brand new alternatives. Use throws, blankets and cushions to add a fresh new twist to their aesthetic. This is also a great idea during the winter when you might want to make the space feel more cosier as the temperature begins to fall. Rattan garden furniture can also be repainted very easily, which allows you to get creative with your colour palette without having to spend a fortune each and every time.
---
Whether you invest in a high quality rattan dining set, reclining seats or anything else for outdoor use you should expect it to last for a good period of time. There are some important features to look out for when shopping around that will help determine the overall quality of the product you want to buy.
For example, the metal frame (in particular a steel frame) should provide a strong structure of support that will maintain the integrity of the furniture's shape. This ensures it can bear the weight of everyone using the furniture and you won't have any concerns about bending or warping occurring over time.
The rattan weave should also be closely knit to produce a tight, flat surface that adds to your comfort. This will not only improve its natural weather-resistant properties but also ensure it remains hardwearing and doesn't become easily damaged. So if you are ordering online, visiting a showroom or comparing at a garden centre, always be sure to check the quality of the rattan.
Before you buy also check that there is a warranty provided by the company. For example, Furniture Maxi offer a warranty on the metal frame provided with all our indoor and outdoor rattan pieces. This gives you confidence in the quality of our products and added assurance that should you experience an issue in this period we are there to help.
---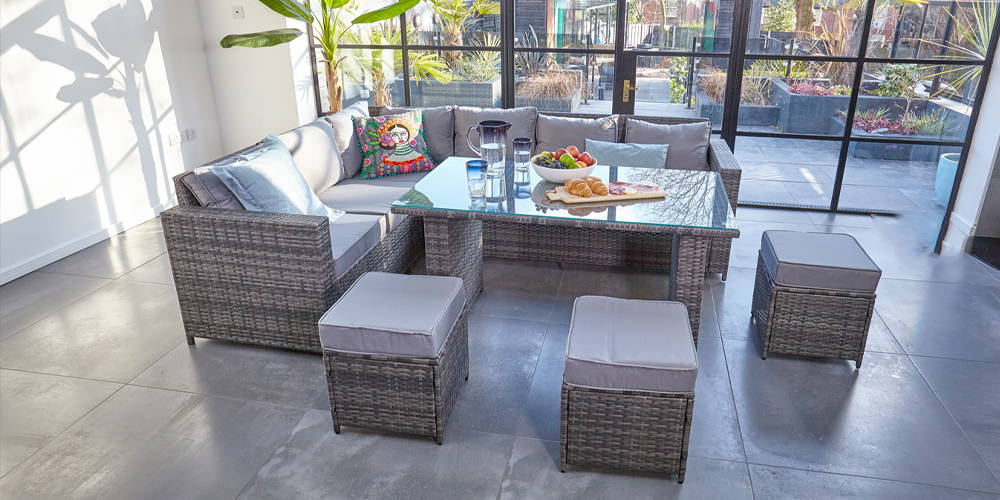 Get the comfort you deserve
You will likely be spending a lot of hours relaxing on your multi-seater sofa set, bistro set, day bed or other pieces you have invested in, so comfort is something that cannot be overlooked. It ties in very closely to the quality of the furniture you buy, as the better the materials used to construct it, the more comfort you are likely to enjoy as a result.
Natural rattan will serve you better in this regard, as the natural flexibility of the material is more responsive to ongoing usage. It should feature a tight, flat weave that can support the cushion, along with a strong steel frame that can hold the weight of people continually getting up and down. The cushions should also be able to maintain their shape and not look sunken or worn out before their time.
---
Be Flexible and Adaptable
While you want to purchase rattan patio furniture that suits the space well and serves the needs of the time spent there, it makes sense to ensure the pieces are adaptable enough to offer more.
For example, why not invest in a rattan corner sofa instead of chairs and a coffee table? This means it can also be used for casual relaxing while your refreshments are taken care of, and also gives you the option to welcome a larger group for lunches and dinners. Or instead of going for a coffee or side table that only allows you to place items on-top, consider options that also provide storage.
The more use you can get out of your rattan garden furniture, the more value you will receive for your purchase. It should also mean less clutter outside as there will be fewer items performing the same tasks as a larger number of pieces would be able to.
---
Check you have enough storage space
Finding enough storage can be an ongoing struggle for many households – especially if you have growing kids. What may first have been a spacious house soon becomes filled with the everyday items that make up our lives and before we know it almost every cupboard, shed and storage space is packed to the brim with stuff.
When you are buying rattan furniture you should think about not only where you want to position each piece, but where you can keep it when it's not in use. Spring and summer are the prime seasons for enjoying the garden, and when the temperature dips into single figures in autumn and winter you are less likely to spend time outside relaxing.
Cube sets lend themselves to maximising space as they can be stacked and stored, or the seating kept underneath the table to increase the surrounding space. If you have a garage or shed that can accommodate them you can leave the furniture there during off-season, or even bring them into a conservatory or orangery, should you own one. You may even decide just to leave it outside until you are ready to use the furniture again, but unless they are given the right amount of protection, this isn't something we would advise you do.
If you have no option but to leave the furniture outside, we would recommend you invest in a weatherproof cover that can be secured in place using drawstrings. This will shield against wind, rain, frost and any flying debris, and can even be used during the summer to protect the furniture against UV rays. The cost is low compared to the damage that bad weather could cause to the furniture and it means you won't have to worry about where to store everything when not in use.
---
Just as you would with indoor furniture you have to plan the layout of the garden to maximise the space you have available. Whether you are buying a dining set for al fresco dining, a garden bench for quiet contemplation in your outdoor space, or a sun lounger to relax and take it easy, you need to ensure the garden doesn't feel overcrowded and provides easy access and walkways.
Try to plan this together with how you intend to use the space which will make it easier to map out where each piece of furniture will go. For example, if you are big fan of BBQ cookouts during the summer, then think about where you'd want to use the equipment in conjunction with the seating available for family and guests. The distance should be relatively short for people to grab their food and sit down, but also not too close that the smoke lingers over everyone.
As you would with furniture for the inside of your home, measure the dimensions of your garden to create an overhead plan of the space. Add in the patio areas and flower beds that are in place so you have an accurate idea of the amount of space available for the furniture. Whether it's a 5 or 9-seater sofa set or anything else, all our products feature the measurements, so you can add this into your plan to find the right configuration that suits you best.
---
Popular types of rattan furniture
From corner sofas to spacious sofa sets that can accommodate up to 9 people at a time, sofa sets remain one of the most commonly purchased types of rattan furniture. Combined with plump cushions, footstools and stunning coffee tables, they offer the perfect place to get unwind and relax in the garden.
If you are a big on entertaining and love nothing more than cooking for friends and family, an outdoor dining set is just the ticket. The table top provides plenty of space to eat and enjoy the pleasures of al-fresco dining during the warmer months of the year. Use them on the patio, decking or in conservatories or orangeries when the temperature starts to fall.
Bistro sets are great or smaller gardens, patios and balconies, giving you a place to grab a bite to eat with a friend or other half at any time during the day. They bring a real sense of elegance and style to the garden and can easily be moved to new locations during autumn and winter if needed.
The next level of relaxation can be found in a sun lounger, complete with parasol for added protection against UV rays. Add in a side table for refreshments so you can stay cool, and use the easily adjustable settings to find the perfect angle to top up your tan and enjoy spending time in the serene environment of your own garden.
Known for their great space saving benefits and timeless aesthetic, rattan cube sets remain as popular as ever with UK homeowners. They are stackable and foldable to help you maximise floor space, while offering all the style and comfort you expect from rattan. Ideal for compact gardens, conservatories and more.  
---