Popular Garden Furniture Trends | Furniture Maxi
Popular Garden Furniture Trends 2021
Popular styles and designs are always evolving in the outdoor furniture market and now that many of us are making more use of our gardens than ever before, there is a lot to look forward to in 2021.
Whether you own a small or large garden, there are plenty of exciting design ideas you can use to transform it into your dream space. We look ahead to the rest of the year to see what the most popular garden furniture trends of 2021 will be to give you some inspiration.
---
The further we go into 2021 and the closer we get to the summer and a return to normality, the more we can try to forget all about 2020. People are spending more time in their outside area than ever before and adding some brighter colours is a great way to change the mood and atmosphere without spending much money. It's one of the key garden furniture trends for 2021 and the best place to start is to mirror some of the more vibrant colours in your home in the outdoor living space.
It can be anything from adding a few beautiful plants, to introducing cushions that pop, or exciting new throws to spruce up your garden furniture. Match them with an outdoor rug to transform the space to make it feel like a part of a home you can't wait to relax in time and again.
---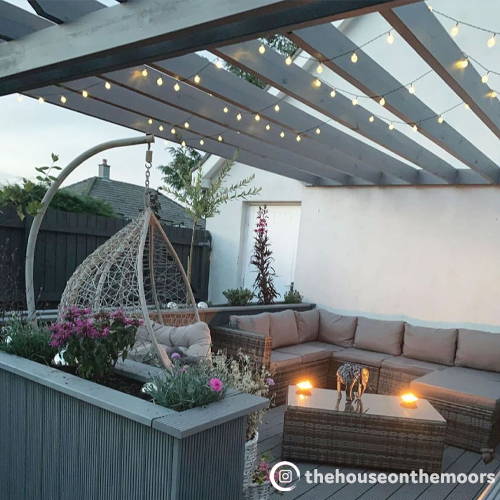 ---
Ambient outdoor lightning was a big outdoor furniture trend in 2020 and it will definitely continue on into 2021. Chimineas and fire pits are great ways to introduce these kinds of lighting solutions into your outdoor space and garden, so you can make the most of those long warm summer nights with family and friends.
These items are safe to use and come with a number of tools that make it easy to control the flame and douse it when finished. Fire pits in particular have been rising in popularity for the past few years and come in all kinds of shapes and sizes, with many made from rattan or aluminium. They can also be used all-year round, so even when the temperature starts to fall you can keep the chill off in your outdoor space.
Nothing beats building your own cosy nook or nest away from the rest of the home, and the arrival of hanging swing chairs as a garden design trend will make it even easier to do in 2021.
They effortlessly combine style and are extremely comfy, letting you snuggle into a corner of your home you can call your own. They are also sometimes called egg chairs or solo cocoons, so be on the look out for those names to if you start shopping around. Hanging swing chairs continue to become a popular rattan garden furniture piece that is appearing in an increasing number of homes around the country.
Merging together the style of furniture used indoors with the external aesthetic was an outdoor trend already on the up before 2020 saw us spend more time than ever at home. It can be anything from the simple addition of potted plants or an outdoor sofa, to rugs and lighting installations.
The garden has traditionally been seen as a completely separate space, but the growing popularity and accessibility of outdoor furniture has seen that change in the past few years. The idea is to create a seamless flow from one area into the other, so your entire property feels like home which will encourage you to get the most from every square inch.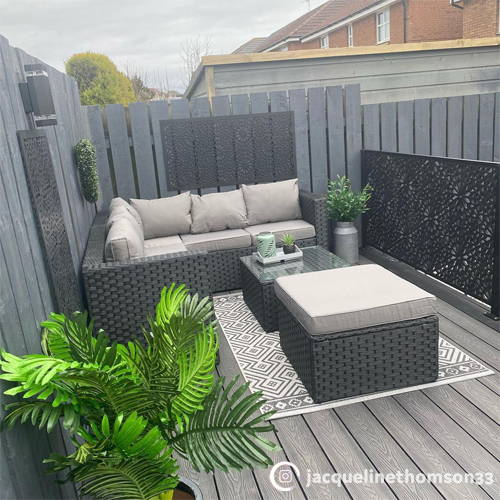 ---
Outdoor design ideas are not just intended for homes with large gardens. Properties with compact areas need to make the most of what they have, and in 2021 there is an increased focus on helping people achieve that.
When it comes to a smaller garden the goal is to make the space look as large and open as possible. This can be done by making the most of the vertical space, establishing clear pathways, creating clear borders and building outdoor rooms or specific zones for certain activities. You will have to be careful with plants, as anything too bushy or overgrown could crowd the area, but some bright climbers or perennials (Geraniums are great for this) would be ideal.
People love to eat out, but don't always enjoy the large bill that comes with it. It's why rattan garden furniture has become such a hit, especially the many casual alfresco dining options it provides. 2020 encouraged people to be far more creative in the home entertainment stakes, with the option to visit restaurants not on the menu, so garden dining became even more popular.
That will continue into 2021, even when things eventually return to normal. Whether it's patio furniture or eating in cooler conservatory areas, there's always something special about eating outdoors. Rattan outdoor furniture provides options to eat on traditional dining sets, bistro sets and sofas – even if you invest in a sun lounger all you need is a small side table for refreshments.
This goes hand-in-hand with the growth of dining outdoors in the garden and the blending of indoor and outdoor spaces. Having the option to entertain the family in the comfort of your own garden also means setting up the tools that will allow you to cook outside. It can be particularly useful if you do not have a large indoor kitchen, with the outdoor area acting as an open-air extension of sorts.
Cooking up a tasty BBQ or making homemade pizzas in outdoor ovens creates a real rustic and inviting atmosphere that everyone can enjoy. When you add this into a dedicated seating area, nice ambient lighting and great company, it's easy to see why it's a trend that will continue into 2021 and beyond.
---
If you are spending more time at home, have blended together internal and external aesthetics and are loving the joys of outdoor cooking, then the next natural step to take is to grow your own ingredients in the garden.
Veganism has steadily been on the rise over the past decade as more people have started to turn away from meat to look for healthier options. The UK has clearly defined seasons that are ideal for growing organic produce, and it is also a great way to cut down on shopping bills. Today there is an ever-growing resource of places to visit online to find tasty plant-based recipes, and even if you do not have a large garden, wall planters and patio containers are a good way to cultivate your own vegetables.
---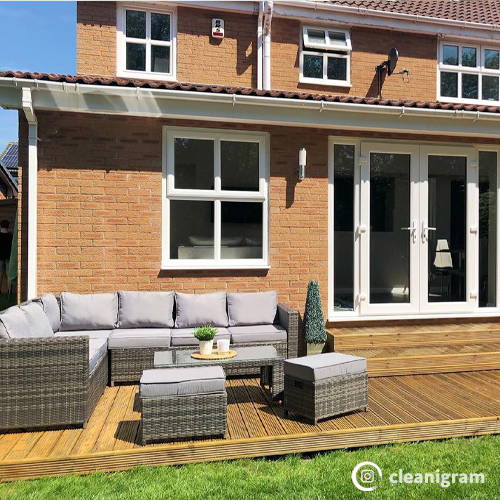 ---
Pantone's chosen colours for 2021 are Ultimate Grey and Illuminating – with the former in particular an interesting choice. Grey is a colour that has become increasingly popular with modern garden furniture, with its neutral tone providing a great balance with the naturalism found in outdoor spaces.
There is no shortage of grey garden ideas for the year ahead and it's no surprise that rattan will also prove to be an easy match here. You'll find a wide variety of grey shades in this type of outdoor furniture, and regardless of the style or shape you currently have in the garden, the subdued tones slot right in without any fuss.
It has been away from design trends for quite some time but crazy paving makes an unexpected return for 2021. For those not aware of what it is, crazy paving creates a 'crazed' appearance to the finish, so there is no recognisable symmetry or layout to the design. Gabion walling (where wire is used to tie together stone-filled gabions) is also back on trend.
Stepping stones that use large irregular slabs are proving popular again too, while porcelain paving continues to make a comeback. The reason for porcelain's popularity is because it looks like real stone and offers practical benefits such as the non-slip surface (the material has a low absorption rate). And with split level gardens starting to appear in more outdoor spaces across the UK, so too is slate-style walling.
An ever reliable garden furniture trend is forged metal, which continues to be a hit with many homeowners. It's a truly classic style that goes back decades and its adaptability to gardens makes it a popular choice for many.
When treated correctly (and it is important to note that metal furniture can require a lot of maintenance work), it can remain protected against the elements, while looking very elegant and offers good durability. Like rattan garden furniture, it has remained on trending lists for years and will continue to do so for many more to come.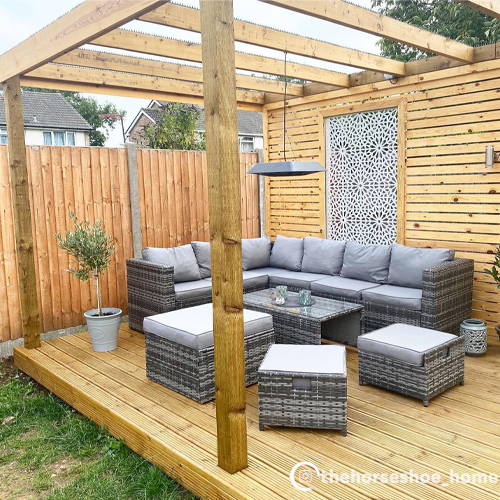 Building an entirely new outdoor space with a roof shelter requires quite a bit of planning, time and money, which is not something everyone is able to commit. A popular alternative for 2021 will be outdoor pergolas, which create the illusion of an outdoor room, complete with covering, without anywhere near as much investment required to put it in place.
Creating dedicated zones and areas in the garden is a key trend for the year, and this is a cost-effective way of doing that. So if you want to get a bit of shade from the sun or duck underneath the cover during a downpour while the BBQ is fired up it has lots of versatility.
Reclining sofas have become a go-to choice in recent times for indoor spaces, taking up centre stage in living rooms and entertainment rooms. With homeowners now making their garden like a fifth room (in addition to the living room, bedroom, kitchen and bathroom), recliner sofas are now making their way outside of the home.
Rattan sofas in particular are ideal for outdoor conditions, with their high levels of protection against UV rays, rain and frost. Rattan recliners also look just as great in conservatories or orangeries if you prefer to kick back in the shade. So if you want to take your relaxation time up a notch or two in 2021, this is well worth looking into.
---