How to Style Your Garden | Furniture Maxi
---
To style your garden is to bring it to life in a way that matches your taste and your personality. From the garden furniture you choose to the lighting and layout, creating an outdoor space that fits your way of life.
Whether a place to retreat from the world, relaxing with a book and a bottle of something red; or an enclave of entertainment, a haven to host friends on a long summer night.
In this article we'll take a look at some of the best ways to add a bit of modern style to your garden, so that you can enjoy that outdoor living to the max, in an environment that works for you, and reflects your own personal tastes.
---

We all love that chilled feeling we get on holiday, as we relax by a pool or on a veranda as the sun goes down on another beautiful day.
Now, we're not advocating that you install a pool in your garden, but a few classy additions can help you recreate that sense of relaxed holiday calm when you get home from work each day.
So, how do you transform an area of your garden into a home holiday zone?
Well, your furniture and accessories can certainly help put you in the right frame of mind:
Buy some comfy recliners or other garden furniture that is actually appealing to look at and inviting to sit upon. A luxury sun lounger set upon which to kick back, close your eyes and dream of tropical sunsets
A quality rattan sofa set can create an area of the garden that exudes that relaxed holiday style, every day of the year, offering an elegant, comfortable place to sit, entertain and eat.
It's also amazing how much you can transform a simple outdoor dining space by adding an attractive parasol to your patio set. A simple, clean addition that's perfect for sitting beneath with drink and a good book.
The Al Fresco Dining Experience
---

While we've long been a nation that rushes to dig out the barbecue at the first hint of warm weather, your garden can offer so much more when it comes to outdoor dining experiences.
Creating that space to prepare and cook can be a great way to utilise the garden space you have, be that a simple barbecue area or full-blown outdoor kitchen.
However, the real treat of Al Fresco dining has to make room for the dining itself. The pleasure derived from sitting around a table and indulging in quality food and drink in the open air.
This is where making the right choice of garden furniture comes into play. Why not consider an elegant dining set such as a rattan 7 seater outdoor table and chairs, ideal for entertaining and spending an evening sitting around?
Or maybe a corner sofa set with table, for less formal or tapas style dining if you're going for that Mediterranean feel.
---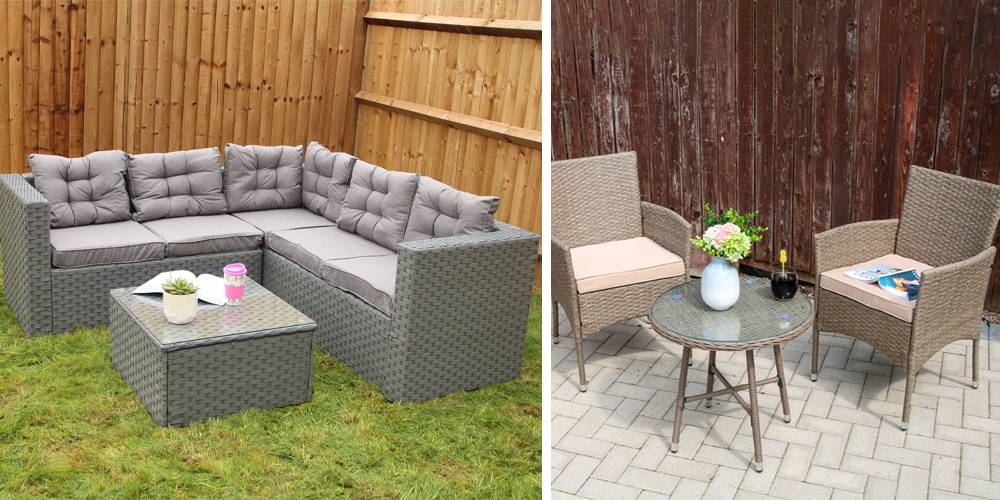 Taking a more minimalist approach when styling your garden works for a lot of homeowners for a number of reasons.
First, it offers a neat, contemporary feeling that might well be in keeping with similar modern stylings in the interior rooms of the house.
It can also help keep your garden low maintenance, which can be a real advantage to those who want a good looking and practical outdoor living area, but lead busy lives with not much time to tend to greenery.
You can source some elegant modern garden furniture to help the look, such as a rattan 5 piece set, without necessarily having to break the bank to do so.
Once the furniture is arranged and in place as you desire, that chic minimalist look can be enhanced by the way you accessorise the area. Some small, easy to manage plants can add colour and a sense of calm to the area. And, if you've opted for contemporary plain colours for the furniture, such as a popular grey, then a hint of vibrancy can be added with a small selection of brighter, waterproof, cushions.
---
We know that your garden offers a cherished space for most homeowners.
Whether large expanse, or a compact city garden, making the most of this space is an important part of our home lives.
How you style your garden is, of course, down to your personal tastes, your budget and the space that you have available. But with some carefully selected items and an awareness of what you want from your outdoor living, you can truly maximise the space that you possess.
From loungers upon which to enjoy the sun, to beautifully crafted and aesthetically appealing rattan outdoor sets or sofas, the garden furniture and accessories that you introduce will play a massive part in this overall look and appeal.
---