What Is The Best Furniture For A Conservatory?
What Is The Best Furniture For A Conservatory?
Building a conservatory in your house can be one of the best decisions you make for your home. This particular room is a family favourite and often serves as an escape from the hustle-bustle of the rest of the house.
A conservatory makes the best of both the indoor and outdoor ambience. It can help you be closer to nature, relax and unwind after a long day's work, get some quiet time in observing the great outdoors, and soak in some much-needed sunlight.
A conservatory can double as a garden room, living room, dining room or even just a reading room, depending on how you furnish it.
However, the way you design your conservatory has a significant impact on the aura of the space. A well thought out space will have an inviting atmosphere so that you always look forward to spending more time in that area. 
Before buying furniture for your conservatory, ensure that you have a design plan or theme in mind for how you want the conservatory to look. We've compiled a guide of the most important factors to consider when designing and furnishing your conservatory. So read ahead to find out how to optimise your conservatory's interior design.
---
When you're planning on converting your conservatory into the room of your dreams, there are a few things you have to consider. These factors are essential in creating excellent living spaces transforming your conservatory into a functional and comfortable room.
---
One of the most crucial elements you have to consider when furnishing your conservatory is incorporating the maximum amount of lighting. Your conservatory's design and its intended use can dictate how much artificial light you should use and where you should place it.
For starters, you want to incorporate as much natural light as possible. For this, you must ensure that no large furniture pieces are blocking the glass walls of the conservatory and obstructing direct sunlight. Most conservatories have at least one solid wall, so if you want to place tall furniture, make sure it is against a concrete wall instead of a glass wall or window.
---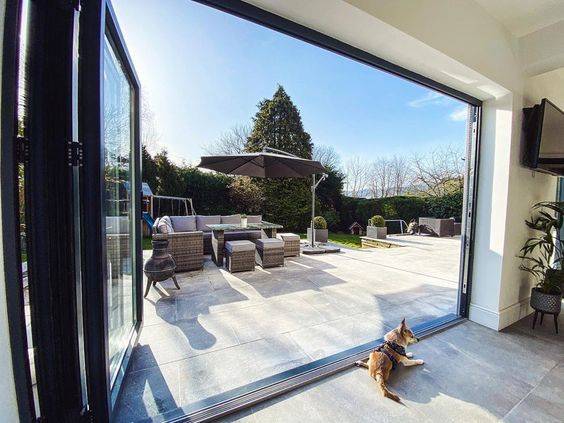 When playing with natural light, it is essential to think about the colour scheme of your furniture as well. Light furniture and upholstery help reflect light and keep the whole room looking bright.
At the same time, darker furniture options may restrict light and make the room look gloomy. Although you can add a few contract furniture pieces such as a dark footstool, or armchairs, ensure they are placed to create balance all over the room.
There are numerous dark and light furniture options that you can vary to make a modern conservatory room while still giving an overall comfy vibe.
---
You can place artificial light around the conservatory in the form of standing lamps and more miniature floor spotlights. If you have a glass roof, putting artificial lights on it could be challenging.
However, you can always use an LED strip on the top of your conservatory. If the roof is tiled, you can treat it like any other room in the house and add appropriate ceiling lights. Adding pendant lights creates a focal lighting area around the room.
---
Utilising the space in your conservatory well is of utmost importance, especially if you have a small conservatory. You can add some comfortable but light furniture pieces to your conservatory to maintain adequate space using a minimalistic design. A cramped conservatory may be overwhelming and give some individuals a cluttered, untidy appearance.
To avoid this, space your furniture out and create various nooks such as an armchair, footstool and a standing lamp in the corner as a reading area. Or you can create a central zone, such as the main seating area with your sofa set in the middle, a nice rug, a coffee table and a side table or two next to the couches. This arrangement makes the room look comfy but not overcrowded. Ensure there is adequate walking space and that your furniture does not hinder movement around the room.
You can even add small decorative pieces to your conservatory that can be placed on the tables to add character to your room without restricting space. To increase space for decorative purposes or functionality, you can add shelving to the solid wall in your conservatory.
---
As with all rooms, you want to make sure that the conservatory in your house is functional and usable. Use the right furniture and place it strategically to create a livable comfy space no matter what type of room it is.
After all, your conservatory is likely to be one of the most used rooms in the house. If your conservatory is supposed to have a dining area in the room, ensure that the dining table is not too large to make the room appear cramped but not too small either to be unusable. It should ideally seat at least 4-6 people so that your family and guests can use it.
By utilising the central space as a seating area, you can create a comfortable living room space. First, however, make sure the room furniture and the sofa set you use are comfortable and ample space for lounging for your family and friends. For example, if you have a small sofa set, you can add some armchairs to create more seating space.
Add cosy corners to your conservatory. Such as a reading nook with a comfortable corner sofa and ample lighting, preferably next to a glass wall. All these elements will help make your conservatory functional so that it can be used frequently.
You must also ensure that your conservatory is completely weatherproof. Since there can be some space between the glass walls and their joints, water can seep in causing damage to your conservatory furniture.
---
The best part of owning a conservatory is styling it to look elegant. Because of their design, a conservatory is naturally quite an elegant room and is therefore easy to style. However, choosing a theme and using furniture sets and decor according to it will help make the room look well put together and add charm.
Whether you go for an Edwardian look or create a modern conservatory, you can have it all with this versatile room. For example, you can use a seater sofa and furniture sets in a neutral colour scheme for an Edwardian look. Incorporating wooden furniture pieces will also give the space a graceful old-timey charm.
You can use modern furniture with glass and metal components and unique shapes that draw the eye for a more modern look. Do not overcrowd the space and use a less is more approach when it comes to furnishing.
Add statement pieces that can elevate the room while keeping the rest of the decor and furniture set relatively simple. Adding minimalistic decor pieces or furniture such as a strategically placed and well-designed coffee table or side table can tie the whole look together.
The art you use in the room can set the room's tone. For this reason, choose your art according to the room's theme. Although hanging paintings may be challenging because of the numerous glass walls, you can hang them on the solid wall.
---
One thing you should focus on while considering furniture options for your conservatory is comfort. Your conservatory should be comfy enough for you to unwind in it during any time of the day. There are many ways of making a room comfortable, and most rely upon using the right furniture.
To achieve this, add cushions and throws to your furniture and have soft rugs near the seating space. In addition, ensure the sofa sets are well padded and comfortable to sit on. You can even add candlelights to your room and keep the lighting slightly dull to give a peaceful atmosphere.
Furthermore, if the temperatures in your area tend to drop significantly, adding a fireplace in the room can go a long way in providing cosiness to the space.
---
The temperature inside a conservatory may vary greatly depending on the weather and climate of the area. In general, conservatories tend to be quite warm during the day because of all the direct sunlight and trapped heat. 
For this reason, conservatories make excellent for an excellent garden room as well. All you need is some garden room furniture such as rattan, wicker furniture to help give the space a rustic, outdoorsy look. Incorporating natural materials and rattan furniture, alongside some elegant decor pieces, can give your garden room a truly eclectic feel. Cane furniture is a popular choice for a garden room.
 However, if you live in colder climates and experience harsh winters, the conservatory will become quite chilly as it does not have adequate insulation. In such cases, you may need to add heaters or a fireplace in the conservatory to stay warm, especially at night.
---
Although a conservatory can serve as any room you choose, most people use it as a sanctuary to soothe and realign themselves with nature. Or as a family room to get together and enjoy quality family time.
However, no matter how big or expensive a conservatory might be, if it lacks interior design, it simply will not serve its true purpose of being a comfortable place to relax in.
You can make the most of your conservatory by using the right furniture interior design, following a theme and using a carefully selected colour scheme and decor. Use our guide to choose conservatory furniture and get some detailed insight on things to keep in mind while furnishing your space.
---