The Best Time to Buy Rattan Garden Furniture
When is the best time to buy garden furniture?
Knowing when to buy garden furniture can make all the difference to your bank balance. Like most kinds of products, there are peak and off-season periods and if you are aware of the best time to take advantage of a deal you could save quite a bit of money.
Buying at the right time can also help with your planning, especially if you are landscaping the garden or intend to make more use of the outdoor space in the months ahead. Below we get into more detail about the best time to buy garden furniture and what to look out for when spending your money.
---
Best time to buy garden furniture
One of the best times to start looking at garden furniture deals is in pre-season during spring. This is when nearly all furniture retailers start to organise their stock for the summer season ahead to ensure that items are available and can be delivered on time.
You may also find a good number of discounted deals of high quality garden and patio furniture available during this pardon, with companies keen to entice customers with low prices. This will usually be across the board, including everything from dining sets to rattan garden furniture. Searching for rattan garden furniture in the spring also gives you a chance to plan any changes you have in mind for your outdoor space, letting you organise in line with your budget.
When it comes to buying rattan garden furniture, you will also find a number of great deals during the spring period. However, not everyone is ready to purchase their items during this period for a number of different reasons, but that doesn't mean you will necessarily miss all the best products, as buying during off-season in autumn and winter also has its advantages.
---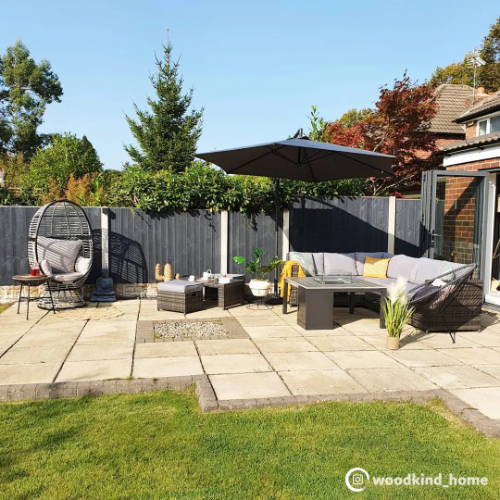 ---
Buying garden furniture out of season
When we talk about being out of season, this means the colder months of the year, covering autumn and winter. This is when you are less likely to be spending time outside in the garden using your rattan furniture as the temperature will be lower. Of course, if you have sufficient insulation and heating systems in place, you can use the pieces as indoor furniture inside conservatory or orangery spaces, so you can enjoy them for even longer.
Many people also plan to buy their garden furniture during the autumn and winter months, as there can be some good deals available, especially where companies want to sell existing stock left over from the spring and summer period.
A common question many people ask is how can they store their rattan garden furniture if they buy it during the winter? It can be tricky if you do not have any storage space for the furniture, but if you invest in weatherproof furniture covers it can offer the ideal solution.
Made from polyester, these covers also feature drawstrings that ensure the furniture is fully wrapped and protected even when the weather is really bad. It's a breathable material that allows the air to still travel over the furniture, stopping it from sweating and lowering the likelihood of mould or mildew setting in. Your rattan furniture will have full protection from harsh UV rays, rain, frost and any debris that may swirl around in the wind, keeping it in great condition.
Ultimately, it means you can leave the furniture outdoors all year round without worrying about any damage being caused. The cover can also be used during the summer, for periods when you are not using the furniture and if you want to shield the material from UV rays. Or, if you go away on holiday you can use the cover to keep the furniture in good condition until you return.
---
What is the best way to pay for your garden furniture?
Now that you have a better idea of the perfect time to buy rattan garden furniture, the next thing to think about is your finances. When it comes to making the purchase, it can be tempting to go for the lowest price around. While it is true there are some great deals available that will offer good savings, you should always ensure you are getting good value for money (we'll go into more detail below about what to look for when shopping around).
Paying for the furniture may still be a little daunting, especially if you are not able to save the money needed to make the purchase. There are many people who can find themselves in this position, but the good news is there is a solution that will enable you to break down the payments so you can manage your money more effectively, which we explain in more detail below in the buyer's guide.
---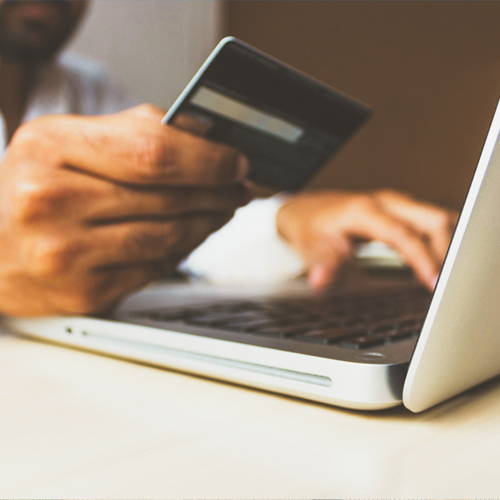 ---
What to look for when buying garden furniture?
Low prices are always enticing, but it pays to invest in quality. While it can be a slightly more expensive route, in the long-term you will see the benefit of spending that little bit more (and don't forget, Furniture Maxi offer the Klarna finance which enables you to split the cost into three equal payments – with no added interest) or purchase the item now and pay later.
A good example of high quality garden furniture are rattan pieces that use PE rattan as part of the manufacturing process. This ensures the rattan material will offer good levels of weather resistance so it can be used for years to come. If the furniture also has a steel frame this means it provides good comfort and support for anyone taking a seat and will not warp or bend out of shape easily.
Reputable manufacturers of high-end garden furniture will have strong quality assurance tests in place that ensure the products they sell are worthy of the price tag. While all of the factors we mention in this list are important, quality will also impact other things such as longevity, comfort and maintenance.
The quality of the garden furniture you buy will also influence the amount of maintenance that has to be carried out over time. Outdoor furniture will often be left to fend off the changing weather conditions, even during the summer, so you should give consideration to how much maintenance may be required.
Wooden garden furniture is a good example of beautiful looking pieces that also demand a lot of your care and attention. Aesthetically it looks wonderful, but as a porous material, it can be susceptible to rot and mould, along with chipping and scratch marks that deteriorate the material. Of course, you can buy protective varnishing, but it does not last forever. It means having to recoat the furniture again at a later date, each time taking away a little of the beauty of the original timber. And if you own a whole dining set or range of timber garden chairs, applying treatments and varnishing is quite a long and tiring job. The same is also true of metal garden furniture.
It's one of the reasons why so many people turn to natural rattan furniture. Maintenance requirements for this type of material is extremely low, so you can spend more time relaxing and less time cleaning and fixing problems. As a natural material it offers a lot of durability, and also provides high levels of weather protection against UV rays, rain and frost, which makes it ideal for use in the UK.
As we mentioned above, you should be wary of buying garden furniture based solely on price and nothing else. That said, very few people have unlimited budgets and most will have a limit to what they are able to spend. So it's a key consideration to take account of your available budget before making a purchase, especially one that will play such a key role in your outdoor space.
It's one of the main reasons why we offer the Klarna repayment system to all our customers. For those who haven't heard of it before now, it's a simple instalment scheme that gives you greater control over your finances. The total cost of the item is split into three equal payments, so you can plan and prepare for the next instalment. Just as importantly, this is a 0% interest repayment scheme, so you only ever pay the full price quoted at the checkout.
A common concern many people have regarding outdoor furniture is how to store the items when they are not in use during the autumn and winter periods. If you invest a considerable amount of money in new furniture, you don't want to see it ruined by the weather after being left outside exposed to the elements.
Of course, if you have a garage or internal storage, such as a conservatory or orangery, this is the perfect solution. The items can be easily moved inside and kept out of harm's way until you are ready to use it again. Likewise, if you own plastic garden furniture it is fully water and weather resistant, so it shouldn't show any real wear or tear during the off season.
But what do people do if they do not have enough storage space for their garden furniture? Not everyone has a garage or conservatory, and bringing a large garden sofa or sun lounger inside doesn't sound very practical. The simple answer is that outdoor furnishings can be left outside all year round, as long as they have the right level of protection. When it comes to rattan, we always advise that every cushion is taken inside when not in use to avoid being exposed to rain and moisture, even during the summer.
However, when spending money on garden furniture sets it's always a good idea to invest in a weather cover that can be tied around to shield the material from the elements. This solves the problem of having to find a storage room indoors, and for smaller gardens, it means the furniture can stay in the same place under cover until you are ready to use it again.
Whether being used as patio furniture, inside a conservatory or on the lawn, outdoor furniture transforms the space into something completely different. When shopping around you should also take time to consider how you want to organise and arrange each piece (especially if you investing in a corner sofa, garden bench, bistro set or something of a substantial size).
When you are looking at furniture for inside the home experts advise to draw a to-scale map of the area so you can play around with ideas and figure out the furniture configuration. You can also do the same for the garden, taking measurements of the area (including the patio) so you have a clearer idea of the furniture dimensions you can buy.
Over time you may want to change the layout of the garden, so try to be flexible and leave a good amount of space around each piece. This enables you to move things around to freshen the perspective so the setting doesn't become stale. You should also ensure there is enough room for people to walk in and around the furniture, so you have easy access. Not only will it benefit the area spatially, but ensure people are not boxed in and also avoid and potential knocks or accidents occurring in tight spaces.
---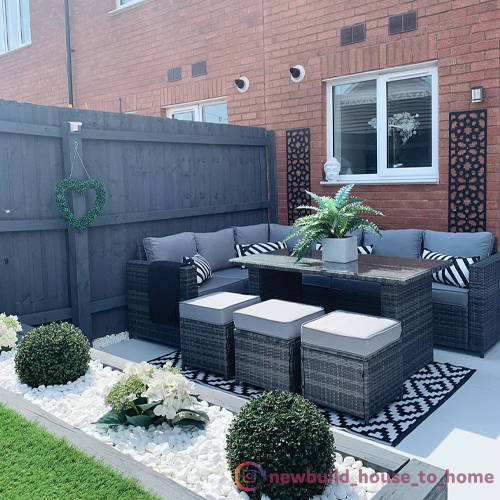 ---
A common thread you'll probably notice when browsing online for garden and patio furniture is that most pieces tend to come in neutral colours. Of course, this may not be to everyone's tastes as some people do want specific tones and colours to match their individual style, but if you shop around enough you should be able to find the exact match you are looking for.
The reason patio furniture manufacturers take the safer route of neutral colours is because it gives you more control over the space outside. White, black, cream, grey and brown furniture sofa pieces and dining sets can blend in with natural surroundings much more easily without causing havoc. White and cream-coloured furniture also has a practical function during the summer, reflecting the heat rather than absorbing it, making it less uncomfortable to sit on.
Nature already provides a beautiful palette of colours during spring and summer, so opting for rattan garden furniture with a neutral tone always makes for a good investment. Depending on how many plants, flowers and/or trellises you have in the space, the neutral tones provide the perfect counterbalance to the reds, yellows, greens and pops of colour that bloom and flourish during the warmer months of the year.
Last, and definitely not least, comes comfort. When weighing up your options you should consider how the garden or patio furniture is going to be used, and also how often. Some people have larger families than others and will see more wear and tear – especially those with younger children – while other homes like to entertain and enjoy long evenings with friends outdoors. You may not plan to use the furniture much at all, but just want the option to relax in the garden if it takes your fancy.
The comfort you will get from the furniture will be largely created by the quality of the materials used to make it. When manufactured to a high standard, rattan will produce a flat weave, which will make all the difference when you are seated for long periods on a dining chair or sofa. You also want to ensure the cushions are of high quality and will not lose shape after being in use for a short period. Good back support is essential to feeling comfortable when seated and the best type of rattan furniture will provide this for you.
---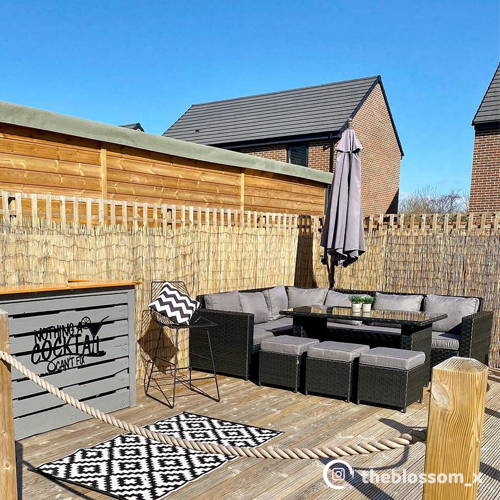 ---
How to make good use of your rattan patio furniture
Rattan is such a beautiful natural material that it easily complements green outdoor spaces. It brings out the best of its surroundings and looks wonderful in the summer.
When complemented by plants it further accentuates the shape and high-end feel of the material. This can easily be done both indoors (conservatories etc.) or outdoors, adding a whole new dimension to the space. Using either small or tall plants works just as well, on the side behind or just in close vicinity to make the area feel special and a place to relax.
You don't have to be a plant or flower expert, as there are plenty of low-maintenance plants you can buy that only require minimal watering. It's also worth mentioning that plants release oxygen, and when positioned inside can help purify the air, making the environment much healthier as a result.
Rattan furniture is usually sold in neutral tones such as black, white, grey and brown. It fits in perfectly with all types of surroundings, especially the natural environment of a garden.
However, the muted tones also serve as a something of a blank canvas for you to work with. If you want to create a more vibrant appearance, changing the appearance of your furniture is something that can be easily done.
The most simple way is to add some brightly colour cushions to bring a pop of colour into the mix. Even a throw can make a big difference, transforming the existing colour into something brand new in an instant.
---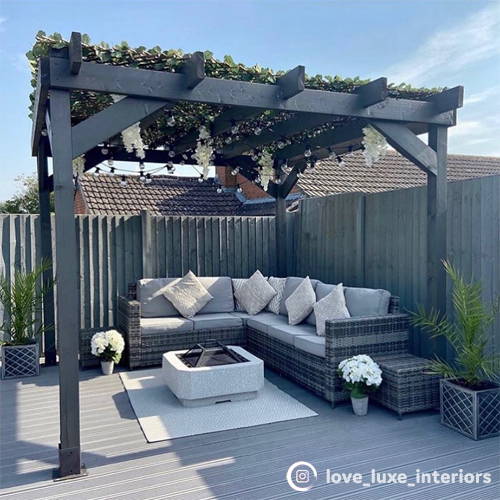 ---
Link the inside to outdoors
Even before the arrival of the coronavirus forced people to spend more time at home, there was already a clear trend developing that saw people breaking down traditional boundaries between the garden and their internal spaces.
Previously, when thinking about garden furniture people would separate the garden from their home. But this way of thinking has changed considerably in recent years, the idea now being that the garden is now an extension of your home.
Whether you buy a coffee table, a rattan sofa set, patio furniture, or a lounger complete with parasol, take into consideration the bigger picture of the layout and how the space will be used. For example, rattan furniture can be used inside and outside of the home, so you can have some consistency in terms of the style you have in both areas.
The same also applies to the dining area, with some wonderfully eye-catching rattan sets that can change the way you use the area, whether it's a full dining arrangement or compact cube furnishings. Having a consistency of style across every part of the home opens it up for more use and ensures you get the most from every part of your property.
While wood furniture can be difficult to maintain, it doesn't mean you should keep the material out of your garden entirely.
When paired with rattan furniture one complements the other perfectly, as both are natural materials that feature vibrant, neutral tones. Lighter woods like beech, or darker variants such as mahogany are ideal, whether it's as furniture or decking.
Balance out the tones by choosing light against dark, or vice versa. For example, you have light coloured decking outside, invest in rich, dark brown rattan seating to contrast the tone, ensuring that both materials standout against each other. Now lets get shopping!
---
---