Tips for Cleaning Garden Furniture | Furniture Maxi
There are variety of garden furniture styles available for homeowners to use in their outdoor spaces, making it easy to find the right one to match your tastes. Whether it's rattan, timber, plastic or iron furniture, each one will have individual maintenance requirements. We've put together some helpful tips on how to clean each type of garden furniture to help you keep it in the best possible condition.
---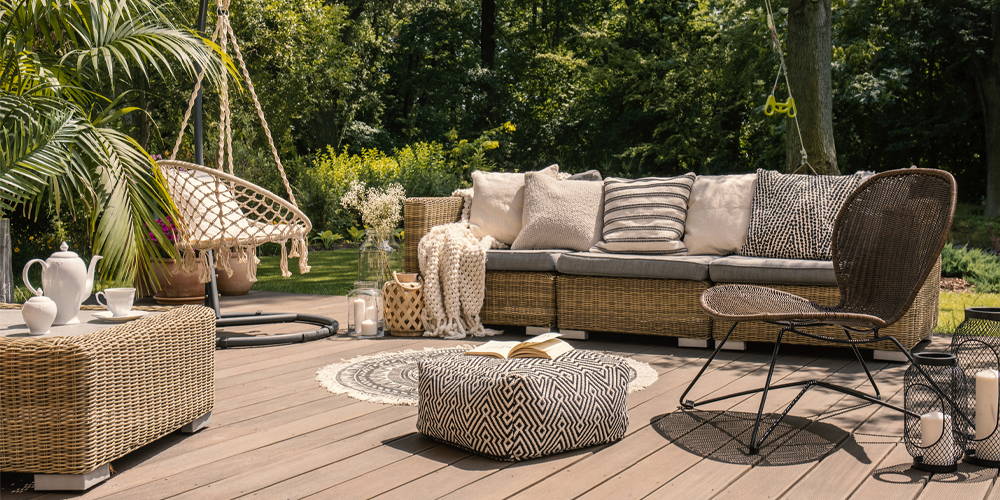 ---
When it comes to timber garden furniture (and for most kinds of outdoor furniture) the general rule to follow is to avoid using bleach-based products. Bleach works better on surfaces that are resin-based or made from plastic, but when it comes to wood and other natural materials it can end up damaging the furniture.
The best type of cleaning agent to use for timber furniture is sugar soap, which despite the name does not contain any form of sugar (sodium silicate, sodium phosphate and sodium carbonate are the main ingredients).
When cleaning garden furniture made from wood wipe down the framework to remove any surface dust and dirt so this does not get mixed into the water when applied. It is recommended to mix around 2 litres of warm water and 1/8 cup of liquid soap and to clean the furniture using a cloth or soft sponge, taking care not to use too much water on the timber. Once cleaned, lightly rinse off the furniture with the cloth (without any soap) and leave it to dry naturally.
---
While rattan is a natural material that doesn't require much maintenance or specialist cleaning, care and attention should be paid when maintaining this type of furniture. As with timber, avoid using bleach and any other form of chemical-based cleaning agent, and the simple use of warm water and a light cleaner will be enough to keep it clean.
The best cleaning solutions for rattan garden furniture is either dishwashing detergent or washing-up liquid. Again, use a light dampened cloth or sponge filled with either of these two agents and gently wipe down the rattan. To get into the weaves of the rattan you can also use a toothbrush which can help loosen and remove dirt that has become lodged there, but do not apply too much pressure as it could damage the material.
An additional item that may make cleaning even easier is an outdoor furniture cover. It's a polyester cover that can be used to protect the rattan from the rain, frost, UV rays and other elements when not in use. This will prove especially useful during the autumn and winter when the furniture isn't being used, reducing the amount of dirt it may pick up.
Take a look at our rattan furniture cleaning guide to learn more about keeping it in great condition.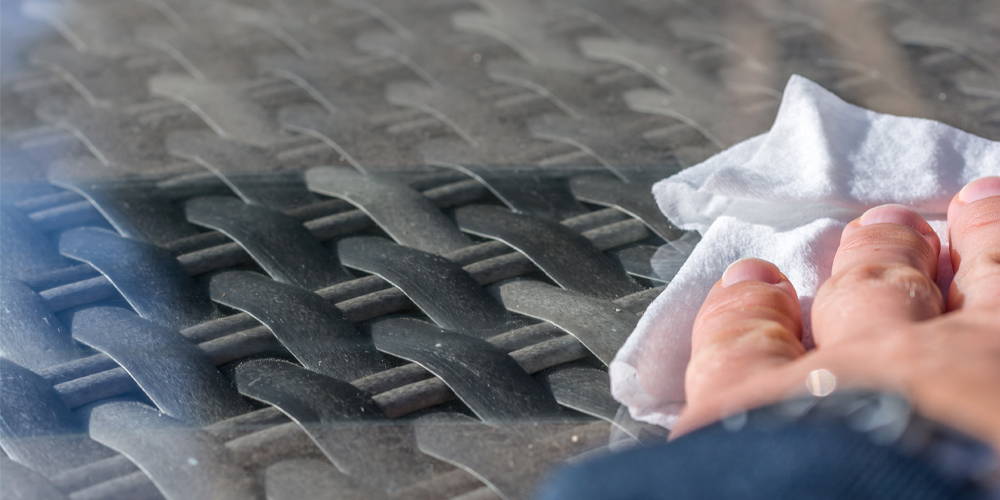 ---
Plastic and Resin Furniture
Plastic and resin furniture tends to be a low-cost option for many households, even though it doesn't hold the same aesthetic appeal of natural materials such as timber or rattan.
Bleach and harsher cleaning materials tend to be used on plastic because the removal of stains is a more difficult task – especially if left on the surface for some time. Plastic is a synthetic material so won't respond negatively to the use of stronger cleaning agents where used appropriately.
Bleach-based cleaning products come with their own instructions which should be followed to avoid any potential damage being caused to the furniture. Generally it involves spraying the detergent onto the plastic and leaving it to settle for a few minutes, before using a wet sponge to scrub away any dirt on the surface. When it comes to coloured plastic furniture try to reduce the amount of bleach used as much as possible, as it can wear away the coating and create discolouring.
One final tip for cleaning plastic furniture is to apply car wax to the surface. This forms a water-resistant layer that will make it more difficult to settle into the material, making it easier to clean in the future.
---
Similar to timber furniture, metal furniture does have its appeal, although you also have to put in a lot more work to maintain its condition.
Wrought iron garden furniture in particular often starts to rust after a certain period of time, and while this can be repaired, it's far from a straightforward task. Cast aluminium is a little better in this respect as it is made with rust-proof properties, although it still requires a fair amount of maintenance work.
When it comes to cleaning metal furniture, start in a similar way by wiping away any dirt that is on the surface of the material. The best cleaning solution to use is either a 1:1 mix of water and white vinegar, or a polishing spray. If the furniture has any scratch marks, use a soft cloth followed by light sandpaper. Finally, apply rust-proof paint to cover the marks to give it a fresh look. Car wax is also a good way to add a weatherproof layer that may be able to reduce damage caused by rust.
---