Garden Furniture Reviews | Furniture Maxi
One of the best things about being able to shop online is using the internet to compare and contrast the most suitable companies to spend your money with. When it comes to the best garden furniture there is usually no shortage of options available to choose from, so it's important to take some time to find the right one who can offer the quality you need.
A company making claims about their products is one thing, but being able to stand by them is another. Doing your research on the company, especially if you have never shopped with them before, could make all the difference to how much value you get from your investment. There are a growing number of online companies selling rattan furniture and the variance in quality provided by each one will vary quite widely the more you discover about them.
---
Rattan Garden Furniture Reviews
It can be a good idea to look at what other customers have to say about the company. Whether it's a rattan furniture company or a business selling anything else, you can carry out this sort of search quite easily online.
Type in the company name follow by the word "reviews". This will bring up search results that highlight customer feedback on some of the purchases. Of course, like any online space you have to take the reviews with a pinch of salt, as some are written for all kinds of reasons. A star rating shouldn't always be the only deciding factor either as a low star rating left by one or a few customers can have quite a dramatic effect on the overall score. Generally, if the score on platforms like Trustpilot is at 3.5 or above you should consider it to be a company with a good reputation online.
Depending on the product purchased by the customer they are also likely to have different levels of expectation. For example, buying a parasol for a sun lounger will be a cheaper investment than buying a whole out furniture set. This can be reflected in some of the product reviews you see online, which is why it's always a good idea to take a closer look at the item yourself on the website.
Before placing the order check the description, features and specifications of the item to ensure everything looks in order and that there are no small details you might have missed. A company with a good returns policy is also important, as it will give you the option to change your mind after it has been delivered. In most cases this will available only if the item remains unpackaged so it can be returned without any damages and then added back to the seller's stock.
Whether searching online via IKEA, Wayfair.co.uk, Homebase, B&Q, Argos, Asda, or Furniture Maxi, using the above as a guideline will ensure more often than not that you make the right purchase.
---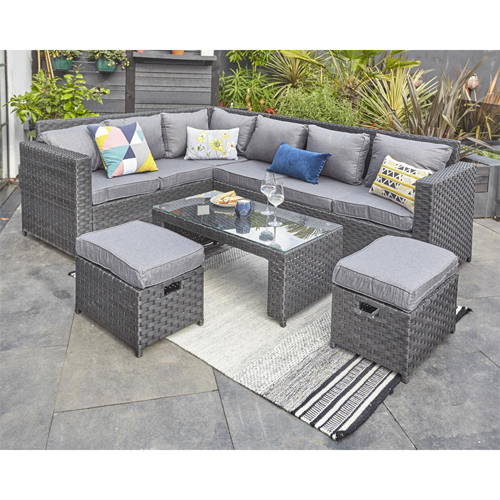 ---
The type of outdoor furniture you buy for the garden will depend on the amount of space you have available. Larger gardens can use the space to their advantage a little more, as they have the luxury of investing in patio furniture that won't take up all the floor space or walkways outside.
It also depends on how large your family is and how much entertaining you like to do. Take, for example, our Barcelona 9 Seater Dining Set in Grey which is made from premium PE rattan and offers plenty of seating options. It's an L-shaped sofa with 6 spacious seats, support backrests and three additional footstools that ensure extra comfort and versatility.
You'll also find large seating products available in our Vancouver and Papaver ranges, all of which come in a variety of colours to suit your preferred aesthetic. The great thing about buying a large garden furniture set is that if you own a conservatory or orangery they also look just as at home there. Complemented by some beautiful potted plants you can transform the indoors or outdoors into your own private oasis that friends and family will love to spend hours relaxing in.
You can buy our garden sofa sets with options of 5, 6, 7, 8 or 9 seats, each product arriving with padded seat cushions and waterproof protection (for smaller 2-seater options a bistro set may be more suitable). Some assembly may be required but an assembly guide will be provided to make construction as straightforward as possible. Our product pages also detail the dimensions of our sofas, so you can plan ahead to see if they will be a suitable fit for you garden.
---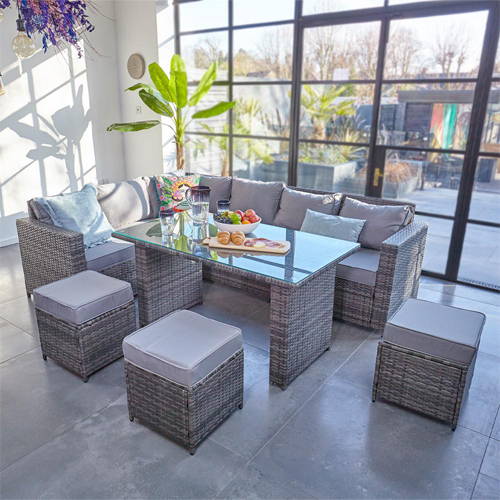 ---
When the sun starts to show itself during the spring and summer accompanied by warmer temperatures few of us can wait to get outside to make the most of it. And who can blame us, with the British weather being so cold and grey, especially during the winter, the re-emergence of the sun instantly transforms not only the world around us but also our hopes for the year ahead.
It's one of the reasons why alfresco dining has become so popular in the UK in the past 5-10 years. We've taken a leaf out of the European handbook to turn it into a trend that looks like it is here to stay and become part of British culture. And now that many more people are looking at ways to get the most out of their garden space, an outdoor dining set can transform the way you eat at home without having to foot a heavy restaurant bill for the privilege of eating outside.
Furniture Maxi's range of dining sets spans across the Vancouver, Barcelona and Papaver ranges, bringing comfort and style to your outdoor space. You can use these sets solely for the family at dinner time to catch up on your day, or to be seated at the dining table at start the day before everyone heads off. If you go for the larger seating options (which can be as many as 9), invite friends around for an evening meal and drinks and create your own atmosphere with no worry of dealing with background music or chatter that comes with eating out.
The Papaver 9 Seater Dining Set in Grey will easily fit in with your existing décor, the neutral colours blending to strike the right tonal balance. There are two modular 3-seater corner sofas and 3 footstools that enable you to create seating arrangements that best suit your garden space. The cushions also offer water resistance, which is ideal if you are suddenly caught short by unexpected shower (this is the UK after all!). We would also suggest investing in one of our furniture covers, which can protect the rattan when the furniture is not in use to reduce wear and tear and help maintain the condition for far longer.
---
Rattan cube sets – what are the advantages?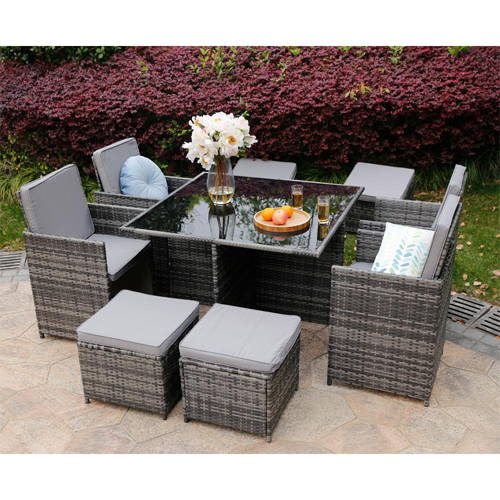 ---
An increasingly popular option with our customers are rattan cube sofa sets which offer a number of benefits for homeowners with gardens both large and small. The Vancouver range has 7 and 8 seater sofas that provide plenty of style and comfort and a variety of uses.
---
The main advantage of buying a rattan cube set is that they are extremely storage-friendly thanks to their compact design. In particular the various pieces of the dining sets are stackable and foldable, or you can push some items underneath the table when not in use, so floor space can be maximised for other purposes. This makes them perfect for compact outdoor spaces so you can enjoy the best of both worlds as and when you please. If you have the storage space, a cube set will also take up less room, which is ideal for homes where storage is at a premium.
---
Contemporary yet classic look
Rattan is a classic-looking material which is one of the reasons it remains so popular today. Although not everyone wants a completely traditional style and a cube set combines it with a contemporary design to make it even more adaptable to your preferred aesthetic. The timelessness of its appeal means it won't go out of style, so if you decide to refresh your garden design in years to come you won't have to worry about investing in new furniture as a cube set will adapt to the changing environment.
As is the case with all rattan furniture, when treated well cube sets will stand the test of time and offer good levels of resistance to the changing weather. All our cube sets come with water-resistant cushions (we also recommend these are taken indoors when not in use to reduce wear and tear) and thanks to the high quality PE rattan used in our products they stand up incredibly well to regular, daily usage, which is great news for homes with young children and pets. You can make your rattan cube set last even longer by investing in an outdoor rain cover which shields your furniture from harsh UV rays, rain and much more.
---
How to position your rattan furniture sets
If you are buying a stylish rattan bistro set, investing in a sun lounger with parasol, adding a side table to an existing set, or going large with a full sofa complete with coffee table, one of the biggest questions to solve is where to position it in the garden. Once you have the dimensions of your garden you can find the rattan furniture that will enable you to make the most of the space. Now you need to decide if it should be positioned on the patio, grass or decking.
---
Rattan furniture on the lawn
When it comes to grass, your decision should be based on the type of lawn you have in place. If you own artificial grass, you are already aware of how wonderfully low maintenance it is, so you never have to worry about wheeling out the lawnmower or breaking your back carrying out all that painstaking care it sometimes needs.
Rattan furniture is less likely to cause much damage to artificial grass, so if you want to place your furniture on this type of lawn, you shouldn't have a nasty shock in store when you move it at the end of summer. This gives you another option of where to put your rattan furniture, especially if you want to move things around mid-season.
Natural grass is less likely to react well to any heavy weight being place on it for a long period of time. Placing the furniture on natural grass will create clear lines and marks, and cause it to fade in comparison to other areas that are continually exposed to UV rays.
---
Rattan Furniture on decking
Decking is a great way to add a new dimension to your garden and is also a great place to position your rattan furniture. When built correctly, the timber provides a strong and stable platform that can easily hold the weight of the furniture and people using it. The natural wooden tones will suit the neutral brown, grey and black colours of rattan furniture, further enhancing their suitability.
The main thing to ensure when using furniture on decking is to add a non-slip varnish to the timber. After rainfall algae can grow on the wood making it quite slippery and potentially dangerous to walk across, so for safety reasons you should invest in ways to minimise this wherever possible.
Similar to timber furniture, decking requires a little more work to keep it in good condition, but it can give you a whole new perspective of your garden. Paint and varnish it to create the finishing touches and combined with rattan furniture it will look amazing when the sun comes out so you can fire up the BBQ and relax in style.
---
Rattan furniture on the patio
While some gardens do not have decking or even a lawn, the vast majority of outdoor spaces are likely to have a patio. And when it comes to rattan furniture sets it is the easiest of choices to make when it comes to deciding where to position everything.
Patios provide a great foundation to place your garden furniture. They are easy to maintain and allow you to fluidly connect the interior to the exterior. Before positioning your patio furniture there give the area a good clean with washing up liquid and warm water using a scrubbing brush. Like your rattan furniture there's no need to use harsh chemicals as it could damage the colour and potentially even fade some of it away.
You should also be wary of how you move your garden furniture around on the patio floor. Always take time to lift it from one position to another, rather than dragging or pushing. This is to help avoid creating scratch or scuff marks on the floor. It can be helpful to invest in some rubber feet to place onto the bottom, which will not only protect the floor, but also reduce wear and tear on the furniture itself.
---
How to make your rattan furniture last for longer
Whether you are buying a rattan sun lounger, garden chair, dining set or anything else for your garden, you want to get the most from your investment. No matter how often you use the furniture piece, over time it will experience wear and tear, especially if it is left outside in the ever-changing British weather. But that shouldn't have to mean working overtime to provide maintenance and care to keep the furniture in good condition, and thankfully there is a solution available that can ensure you don't have to.
Using our weatherproof outdoor garden furniture cover will allow you to protect your furniture and keep away harmful elements that could damage the material, helping it last for longer. The lightweight polyester ensures durability and features a classic style that will blend in with any outdoor space. Use it to keep rain, UV-rays frost, hail, dust, leaves and bird droppings away from the furniture during off-season, or at any time when you are not using it. If you would like to learn more about maintenance and care for rattan furniture, you can read our blog post.
This gives you the confidence to go away on holiday without worrying about the furniture being over-exposed to the weather. It's fully weather-resistant and comes complete with drawstrings and stoppers to keep the cover firmly in place and the breathable fabric allows for continuous airflow across the furniture to reduce condensation the formation of mould.
---
Buy now pay later with Furniture Maxi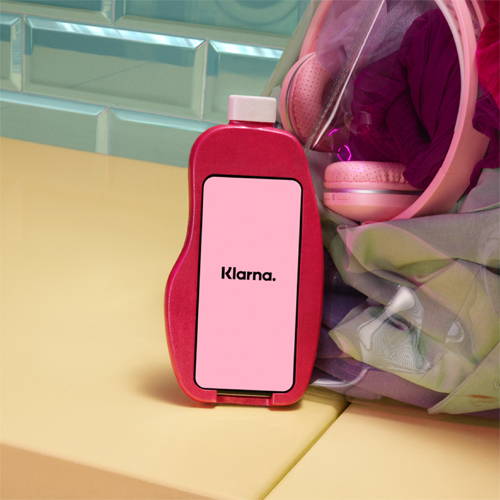 ---
To help you budget and plan for your garden this year we are now able to offer a fantastic and affordable new way of paying for your garden furniture. We have introduced the Klarna payment system for all our customers, giving you more control over the way you spend your money, without any extra cost involved.  
Klarna gives you the choice to pay the full amount within 30 days, or divide the cost into three equal payments. Simply select the 'Pay Later' option at the checkout and choose between 30 days or the instalment option. If using the former, you have 30 days to pay the full amount after the your items have been dispatched. To use the instalment option, make the first part-payment at the checkout and the remaining instalments will be automatically taken from your credit or debit card 30 and 60 days later.
Whatever option you choose, there is no delay to your order, so you still get the items you love without any delay, before settling the bill at a later date.
---