What is Rattan Furniture Made From? How Is It Different To Wicker?
What Is Rattan Furniture Made From?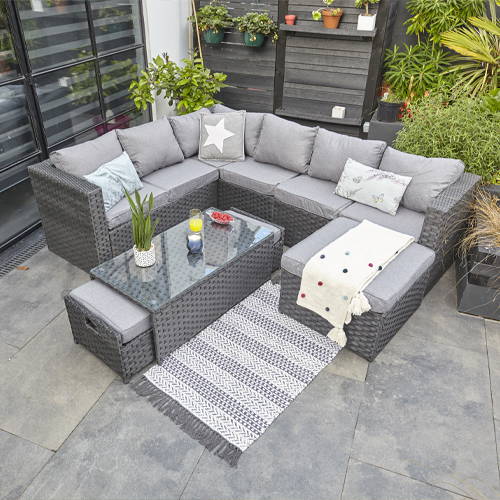 ---
Rattan is high-end garden furniture material that has a long, storied history in the UK. Today it is more attainable than ever and still viewed as one of the best styles of garden furniture you can own.
Despite how long it has been around, there is still some confusion over what rattan furniture is actually made from. In this article we go into more detail to explain what rattan is, where it comes from, unearth some of its history and much more.
---
What is the difference between wicker and rattan furniture?
When you shop around you will have no doubt seen wicker furniture sets on sale in a number of different outlets. Wicker furniture has been in the UK for quite some time and largely due to the way it is advertised it is now largely thought of as an actual material, which isn't actually the case.
In fact, when you see wicker furniture the name refers to the weave method used, rather than the material itself. The material used to make this type of furniture is usually bamboo (see how we've compared rattan vs bamboo previously), straw or natural rattan.
Wicker and rattan are two terms that are often used interchangeably which is why it can sound a little confusing. The easiest way to separate the two is to remember that rattan is the natural material used in pieces of furniture seen in conservatories or for outdoor use, while wicker is the process used to put it all together.
---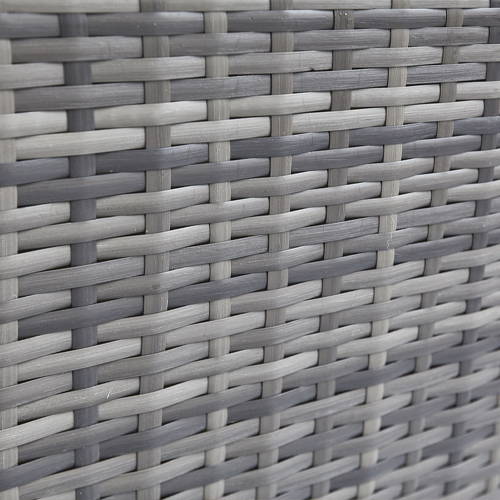 ---
As we mentioned above, rattan is the material used to make a wicker weave. It is a plant sourced from hot tropical regions and can be found growing in African, Asian and Australian regions. There are more than 600 different species and 13 genera of rattan in the world and its texture is closest to bamboo.
Rattan is part of the palm family (Arecales or Palmea) and grows in countries at sea level up to 3,000m. The plant usually grows in hot hilly areas where the mean temperature usually sits at around 25° C, while annual rainfall levels are -2,000mm. These conditions mean South and Southeast Asia are the main source of production for rattan. Forests in Indonesia supply the most rattan to the world, with the likes of Malaysia, Vietnam, Philippines, Sri Lanka and Bangladesh also being major contributors.
The different type of rattan palms include single stemmed, clustered and high or low climber species. Others have underground stems that only extend a short distance beneath the surface. Elsewhere there are a number of species that grow to as high as 100m.
When you look closely at a rattan plant you'll see the sheaths have protective spines and 'whips' that have their own spines. These allow the plant to continue growing and extending over other plants and trees nearby in the rainforest.
Rattan's growth location is what makes it such a great fit for the UK, featuring in-built weatherproof properties that offer protection against UV rays, rain and other natural elements. It is an extremely durable material that is also lightweight and flexible, making it ideal for weaving and manipulating into garden furniture. Rattan grows with a skin that is peeled off and used for outdoor furniture, with the core of the plant also used in some cases.
---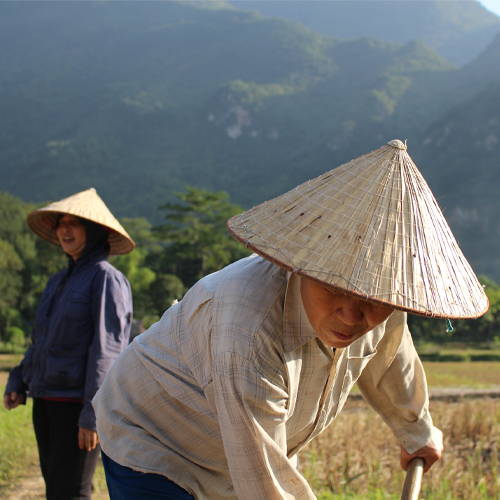 ---
Villages in countries like Vietnam, Cambodia and Laos rely heavily on rattan trade. In some cases sale of the plant can account for as much as 50% of cash income in these small communities, which goes a long way to relieving the threat of poverty in many rural districts. Vietnam in particular is a major exporter of rattan, trading with over 130 countries and contributing to 14% of the national GDPR as a result.
The harvesting and processing of rattan offers a good alternative to logging timber, particularly in places where forests are scarce. Rattan tends to grow best when under a cover of some sort, whether it be a fruit orchard, secondary forest, rubber estate or tree plantation. When planted here it indirectly protects tree cover as well as forests.
---
What is rattan furniture made of?
Outdoor rattan garden furniture is available to buy in two different variants – either made from synthetic or natural rattan. Synthetic rattan is an engineered resin material that is manufactured to look like real thing. It has become more common place in the modern age due to advancements in manufacturing, although it doesn't offer the same wide-ranging benefits that natural rattan is able to provide.
Natural outdoor furniture is made from rattan material with a wicker weave, and is also ideal for indoor spaces such as conservatories and orangeries. It is one of the most versatile furniture materials around and is generally seen as a high end source for garden sets. Compared to synthetic rattan furniture, the natural material holds a number of distinct advantages, including longevity, durability, style and much more.
---
While today we associate rattan with the likes of South America and Africa, it was first discovered in the tombs of pharaohs in Egypt. Wicker was a craft used by ancient civilisations to make practical items such as baskets. This later progressed to the Roman Empire, where the technique was adopted into their culture and weaving became an everyday part of life. The wicker weave we know today started to appear in northern Europe during the 17th century, although it was thanks to Asian traders that it became popular in this part of the world.
As Asia began to trade more with their European counterparts, rattan started to become the more dominant material in the western world thanks to its strength and weaving properties. As the British Empire grew so did the use of rattan furniture in the West Indies, India and eventually, the UK itself. It featured prominently during the Victorian period and became something of a luxury item to possess.
It was during the 1960s and 70s that rattan became more accessible to ordinary homeowners, thanks to advancements in production technology and lower manufacturing costs. Where wicker-style furnishing was once seen as over-elaborate and only fitting for upper class environments, it underwent a renaissance of sorts and found new appreciation inside British homes.
Thanks to the likes of style and design luminaries such as Marella Agnelli and Gabriella Crespi, bamboo and rattan-inspired designs were no longer seen as only being suitable for a certain section of society. The furniture allowed for an attainable sense of aspiration that could fit into everyday homes to create a sense of affordable sophistication – a concept that was becoming the norm as consumerism continued to expand.
That brings us to today where rattan furniture is made into a wider variety of pieces than ever before. Whether it's a coffee table or sofa set, sun lounger or hanging chair, rattan feels like a luxurious piece of garden furniture without the excessive price tag attached to it. As you can see from its origins, it's a material and style that has never truly gone out of fashion and it's that timelessness that makes it so appealing to so many people. You may also wonder does rattan furniture fade? and we've written a handy guide.
---
What are the benefits of owning natural rattan?
Outdoor rattan furniture is a popular choice for homeowners looking for a timeless aesthetic in their garden or conservatories. The beauty of natural rattan is its ability to adapt to changing times, so it never looks out of date, even when it's time to renovate or change the surrounding environment. We also have some fantastic rattan furniture decorating ideas.
The natural material also adds a sense of warmth to the garden that is not possible with synthetic alternatives. From a distance the two may look similar, but it is on closer inspection that the differences become noticeable, which is important as you will be seated for long periods, and not admiring your rattan dining set or patio furniture from afar. The overall quality of natural rattan is far superior to synthetic furniture, which allows for better weaving and longevity, and ultimately, value for money. Painting rattan garden furniture is an option too.
Natural rattan furniture hails from hot countries which means it has in-built protection against the elements. It is also important to remember that furniture made using natural rattan uses the skin of the plant, which is there to protect the core. The skin was naturally designed to shield against UV rays, frost and rain, which means it offers the exact same qualities for your outdoor furniture.
While rattan furniture is weatherproof, it is not waterproof. The material does have the ability to withstand a shower of rain or two, but will require a little help along the way. Most owners invest in an outdoor cover or bring the furniture inside during off-season, depending on how much storage they have available. The cover keeps off rain, frost and debris, while also allowing the material to breathe so mould and rot cannot develop during autumn and winter. And although the rattan itself needs a little extra protection from the rain, be sure to look for rattan furniture that comes with waterproof cushions.
The level of comfort you will be able to enjoy with your rattan garden furniture depends on a number of different factors. As long as the rattan weave is tightly knit and manufactured to a high standard (PE rattan is generally considered the best), you will have good support in place. Similarly, the design also has to be able to adequately accommodate the right amount of people per seat – if too small you are likely to feel cramped and if too large the material may start to show wear and tear in some places than others. Each rattan chair should also come with a cushion, so when seated you are able to remain there for as long as you want.
One of the best things about rattan furniture is how low maintenance it is. You work hard all week and want to spend as little time as possible doing cleaning chores so you can spend your time off doing the things you enjoy. Rattan garden furniture doesn't require extensive cleaning, so you do not have to devote large chunks of cleaning time to keep it in good condition.
All a rattan piece needs is a simple wipe down with mild warm soapy water on occasion to remove any light dirt marks that appear over time. Once you have finished cleaning the rattan piece it can be left in an outdoor space to dry naturally. There are some additional treatments that can be applied to the rattan itself for repair purposes, although these are not essential purchases.
Natural rattan is an extremely durable material, which is thanks to the way it grows at source before being picked. Growing in an extremely hot environment requires the skin to be resilient against the highly potent nature of UV rays, something it is able to do on a daily basis. Even after it has been handpicked and used to manufacture rattan furniture, it remains a highly durable material that can handle the scraps and knocks that come with everyday usage.
The manufacturing process also plays a key role in determining the quality of the finished product, which is why it is important to buy from a company with a good reputation. Synthetic rattan usually does not last as long as the real thing, and can experience more splinters and cracks, which can lead to other long-term issues, something real rattan rarely has to contend with.
Of course, the price tag attached to the rattan furniture you buy is just as important as anything else. However, while it can be tempting to go for the lowest available price, when comparing products you should also take the value into account. Not value just in terms of the price you will pay, but the longevity you will enjoy in return for the cost of the item. At Furniture Maxi we only use premium PE rattan to make our furniture, with every item handmade to perfection. We always offer competitive prices so no matter your budget you always have access to high quality garden furniture.
Another great thing about natural rattan is it is completely biodegradable. This means if you wish to replace your existing product at some point in the future it can be fully recycled. On the other hand, synthetic rattan does not offer the same guarantee, which means it will have to be sent to a landfill tip for disposal. Landfills are one of the biggest issues facing environmentalists today, due to a large amount of chemicals they emit into the atmosphere.
In today's world, it is more important than ever to be environmentally conscious of the goods and products we buy due to the direct and indirect impact they can have on the world. Natural rattan furniture is one of the most eco-friendly choices you can make when it comes to outdoor furniture, meaning not only do you get to enjoy a wonderful piece of furniture for years to come, but you are also doing your bit to help future generations.
---
---
---
---